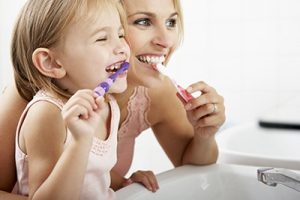 This month is National Dental Hygiene month and although most of you know how to take care of your teeth, we want to offer a few reminders so you can avoid dental disease or bad breath.
Brush your teeth at least twice a day- Using your favorite toothpaste, you should carefully brush your teeth in the morning and before bed. Traditionally, dentists have said to sing the Happy Birthday song in your head twice to know you have brushed
long enough. We have tested this theory and have found that the "In Your Feelings" chorus works just as well (dancing is optional). Brush slowly in circular motions covering all surfaces of your teeth.
Floss Daily- This is a tough one for most people. We love the look on your faces when we ask if you floss daily and you tell us "no". Forty percent of plaque cannot be reached with a toothbrush. Getting down in between each tooth can
remove up to 80% of the plaque growing there. It only takes a minute and can save you so much pain or discomfort later on.
Limit your sugar intake- Foods high in sugar can cause cavities or cause your teeth to decay if eaten frequently. Swap some of those sugary treats and drinks for foods rich in calcium to protect your smile.
Come see us- Regular visits to the dentist are a very important step in dental hygiene. We recommend visiting us twice a year so that we can detect any issues in their early stages. Cavities, gum disease, or even oral cancer often do not cause pain
or discomfort until they are in an advanced stage. That makes early detection extremely important.
Following these four simple steps can protect your teeth and help ensure that they are as strong and healthy as you are.
For more tips and info, visit our website or call (216) 820-9315. Also like us on Facebook and follow us on Instagram.
where we share great information each day with our online community.