Teeth Whitening – Beachwood, OH
Turn Heads with Every Smile
Make your smile shine with teeth whitening from The Center for Advanced Dentistry! As we age, our teeth naturally darken, and certain beverages, tobacco, or medications can accelerate this process considerably. Are you dreaming of having a white smile again? In the time it takes to get a haircut, a manicure, or even just eat lunch, we erase years of yellowing that results from virtually everything you eat, drink, and inhale. Call us to arrange professional teeth whitening in Beachwood, OH from The Center for Advanced Dentistry.
Why Choose the Center for Advanced Dentistry for Teeth Whitening?
In-Office & Take-Home Options Available
Treatments That Won't Damage Enamel or Cause Sensitivity
KoR: The Most Advanced Whitening Method Available Today
KöR Teething Whitening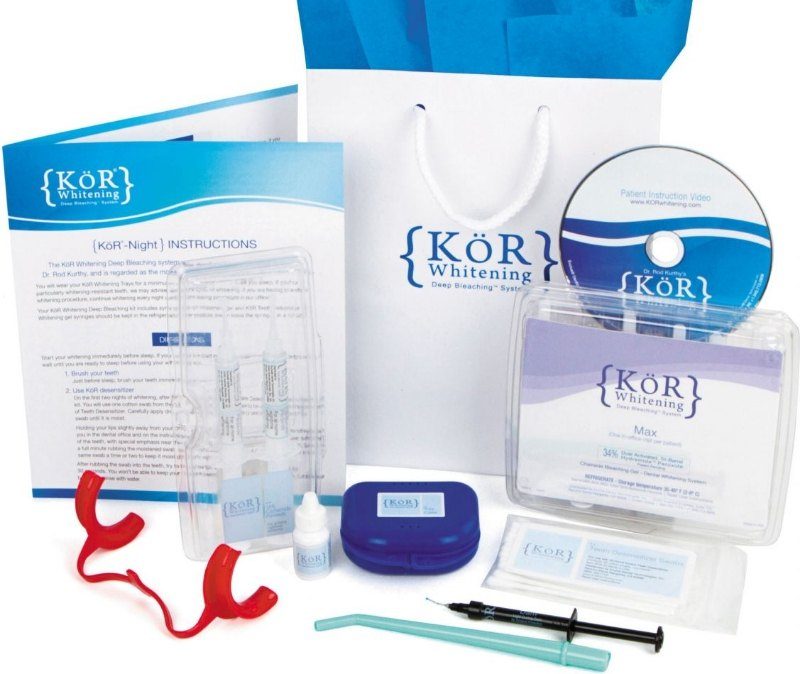 Our cosmetic dentists, Dr. Schlessel and Dr. Hornstein, prefer to utilize KöR Whitening for most of our teeth whitening procedures. This system has been shown to have the ability to whiten teeth up to 16 shades brighter in a single appointment! The KöR Whitening system uses a combination of at-home and in-office steps to create a bright, dazzling new look. The best part is that it's been described as one of the most comfortable teeth whitening methods available because the gel that's used has been formulated specially to avoid side effects like pain or sensitivity.
Using this treatment also means that you won't have to sit under an ultraviolet light for a prescribed amount of time. This whitening method is chemically activated and not light-activated. With careful maintenance, the effects of KöR Whitening from The Center for Advanced Dentistry could last a lifetime!
Teeth Whitening Frequently Asked Questions
At The Center for Advanced Dentistry, we want to help patients make informed decisions about their future cosmetic treatments. This includes teeth whitening, which is by far one of the most popular forms of cosmetic dentistry available today. Below, we've included a few of the most common questions our dental office received regarding teeth whitening. We hope that after you've had a chance to review them, you'll feel more confident about your next teeth whitening treatment. If you still have questions, please do not hesitate to contact our dental office directly!
Is Teeth Whitening More Effective on Teeth with Stains of Certain Colors?
The short answer is yes. When it comes to bleaching, yellow teeth respond the most effectively. Brownish-colored teeth do not respond as well to bleaching, while gray or purple-stained teeth may not respond much at all. If you have blue-gray-colored teeth due to tetracycline staining that may have occurred at a young age, it will likely require multiple follow-up appointments or several at-home whitening treatments to address. If you have severe dark stains on your tooth enamel, we may recommend another cosmetic treatment instead. This includes veneers, bonding, or even dental crowns. It's important to keep in mind that your results will vary depending on the condition of your teeth, the type of stain that is present, and the strength and duration of the bleaching treatment.
Is It Typical to Need a Follow-Up Appointment Following Teeth Whitening?
Following your in-office whitening treatment, we may want to take a closer look at your gums after a few days. If you're opting for at-home whitening, we will likely ask you to schedule a follow-up appointment after a week of application has been completed. An additional follow-up appointment may occur a few weeks later as well.
How Often Do I Need My Teeth Whitened?
While teeth whitening can last for a long time, it is not a permanent treatment. The rate at which you need to perform treatments will vary depending on how often you expose your teeth to foods or beverages that are known for staining teeth. If you consume richly-pigmentated or heavily acidic foods and beverages, you could start to notice the whiteness from your teeth begin to fade in as little as one month. However, if you avoid foods and beverages that stain teeth, you may not require retreatment for up to one year.
How Do I Keep My Smile Bright for As Long as Possible?
In order to keep your smile white and bright, take note of the following tips below:
Avoid foods that can easily stain teeth, including pasta sauce, red wine, coffee and dark colas. If you must consume beverages that can stain teeth, do so through a straw only.
Rinse your mouth out with water after consuming stain-causing beverages. Ideally, you should brush afterwards if you have the ability.
Always brush your teeth twice a day and floss at least once daily. You can also use a whitening toothpaste once a week to remove surface stains and prevent teeth from yellowing. Make sure to use a normal toothpaste most of the time.
Consider getting touch-ups once every six months. If you consume many staining foods and beverages, you may need to visit more often.