Cosmetic Dentist – Beachwood, OH
Get the Brighter Look You Deserve
Everyone's smile and dental needs are unique. Dr. Schlessel and Dr. Hornstein will provide you with the personalized, thorough oral healthcare services you deserve. The entire dental team at The Center for Advanced Dentistry promises to listen to your goals, address any concerns, and then exceed your expectations of our dental services as we produce extraordinary results for you and your loved ones. See how much better life looks from behind the glow of a healthy, glorious smile! Please contact our trusted cosmetic dentist in Beachwood, OH today to arrange an appointment to experience any of these dental services. We provide dental care to dental patients from Beachwood, Cleveland, Shaker Heights, Pepper Pike, Solon, and towns from every corner of Ohio.
Why Choose the Center for Advanced Dentistry for Cosmetic Dentistry?
In-Office & Take-Home Whitening Available
Preview Your Results Before Treatment Starts
Eliminate Wrinkles with Botox/Juvederm
What is Cosmetic Dentistry?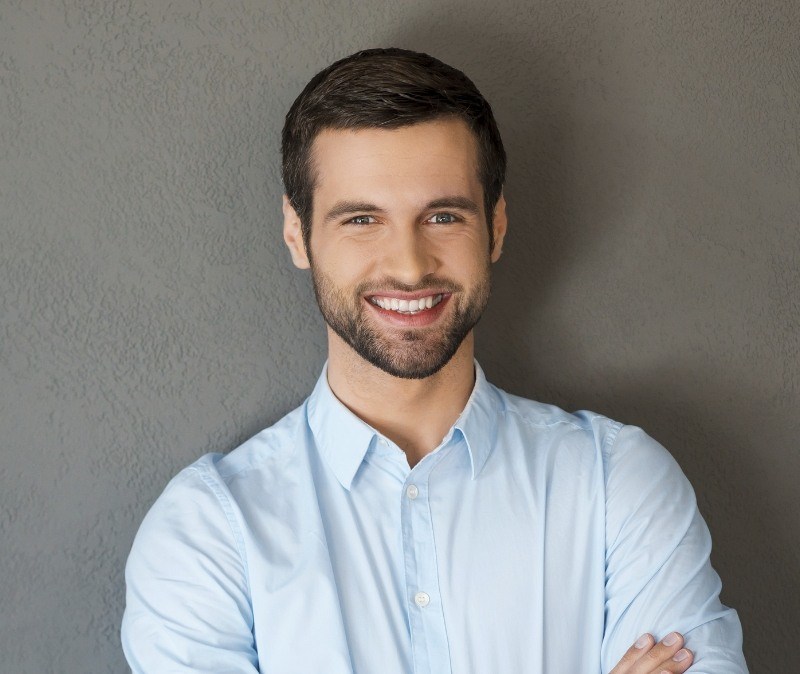 Cosmetic dentistry focuses on improving the appearance of a patient's teeth, mouth and smile. Whereas general dentistry concentrates on necessary treatment, cosmetic is pretty much up to you and how beautiful you want your smile to look.
If it's a beautiful-looking smile you are after, you have come to the right place. We specialize in creating happy smiles that stand the test of time. A gorgeous grin makes a lasting impression, and you deserve all the confidence in the world. We can take your teeth from "blah" to "BAM".
All of our cosmetic treatments will brighten a shabby smile affordably and conservatively. Restorative benefits are also available through cosmetic therapy. For example, dental fillings are a common procedure used to treat decayed teeth. Previously, most dental fillings were composed primarily of gold, amalgam and other materials that left visible dark spots on the teeth.
Cosmetic Dental Bonding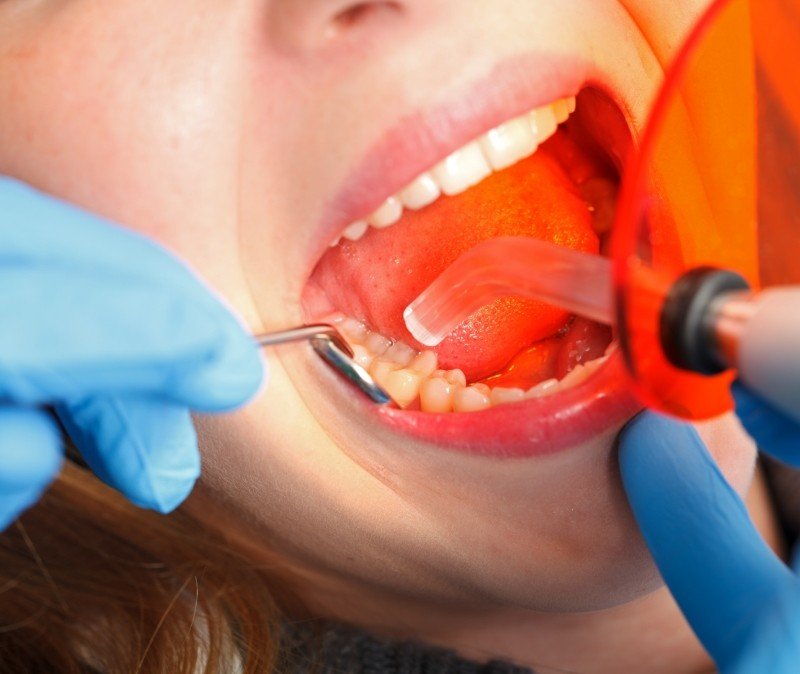 Cosmetic dental bonding repairs minor chips and cracks by using the same material that is used to make tooth-colored fillings. This cosmetic dentistry procedure is a quick and easy cosmetic dentistry technique that will brighten up a shabby smile affordably and conservatively. Of course, we also offer tooth-colored composite resin fillings for cosmetic-quality restorative care.
Veneers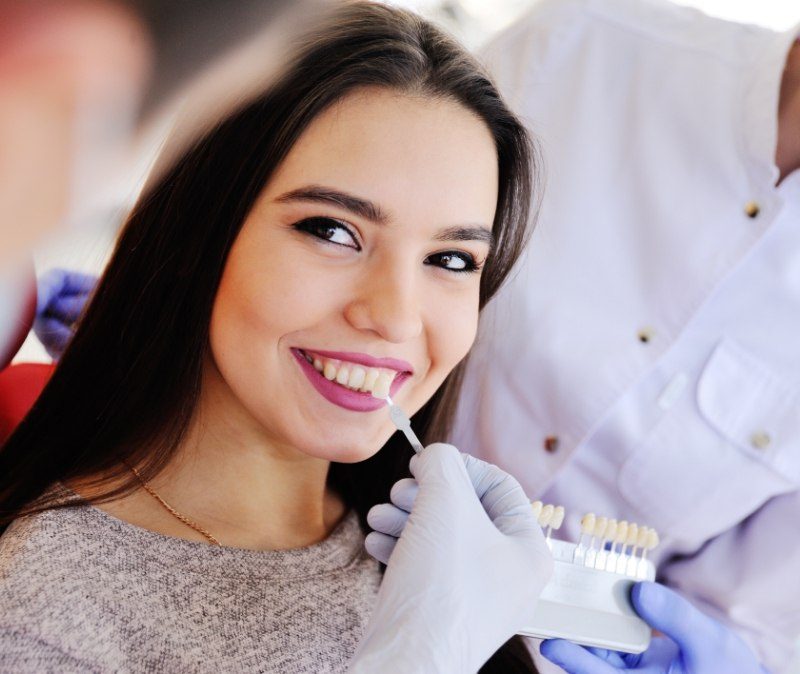 For patients who are suffering from crooked, chipped, or misaligned teeth, our team can apply handcrafted, custom-made porcelain veneers to renew the appearance of your front teeth. Your veneers will blend seamlessly with your natural smile, ensuring that only you will know that they are not your real teeth. Plus, since they are custom-made just for you, you will never have to worry about them feeling uncomfortable or out of place in your mouth. Our team of dental artists will see to it that your porcelain veneers are a perfect fit for your unique features. Porcelain veneers are a simple cosmetic dentistry solution that yield dramatically stunning results.
Teeth Whitening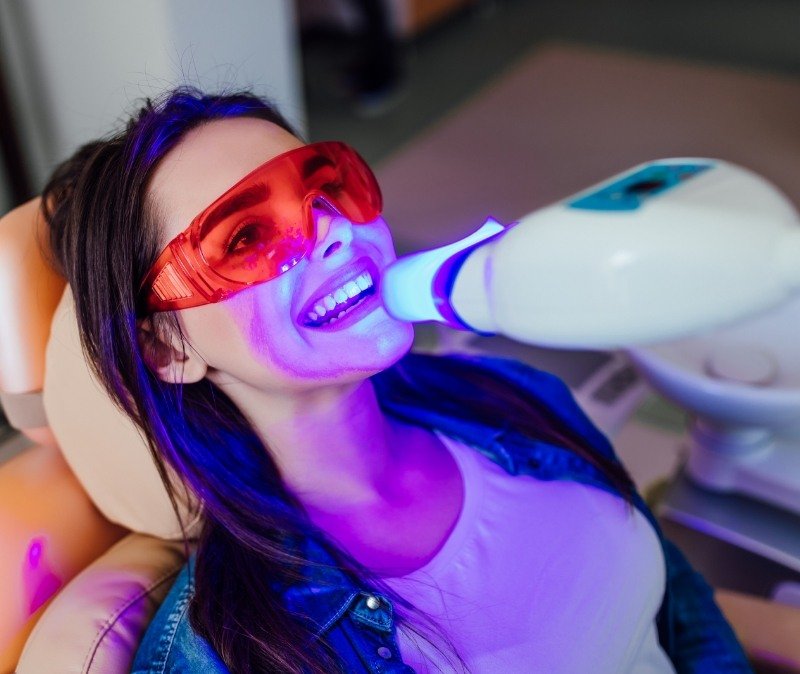 With professional teeth whitening, we can help you erase discoloration and stubborn stains to reveal a new, youthful glow in your smile. Whether it's coffee, tea, red wine, or tobacco, there are many guilty pleasures that leave you with a less than white smile over time. Our advanced teeth whitening methods provide you with a brighter look than you may have ever thought possible!
Learn More About Teeth Whitening
Smile Makeovers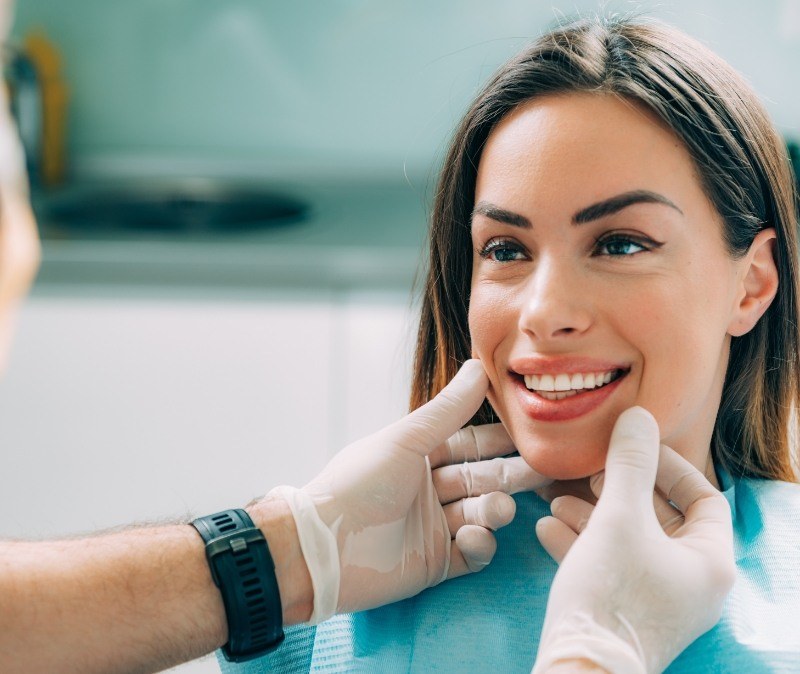 If your smile is in need of multiple changes, our cosmetic dentistry team perform a total smile makeover that will completely transform your image. A smile makeover can include any combination of restorative or cosmetic dentistry services, and it is designed to give you the most beautiful, functional and healthiest smile possible.
Learn More About Smile Makeovers
Metal-Free Dental Restorations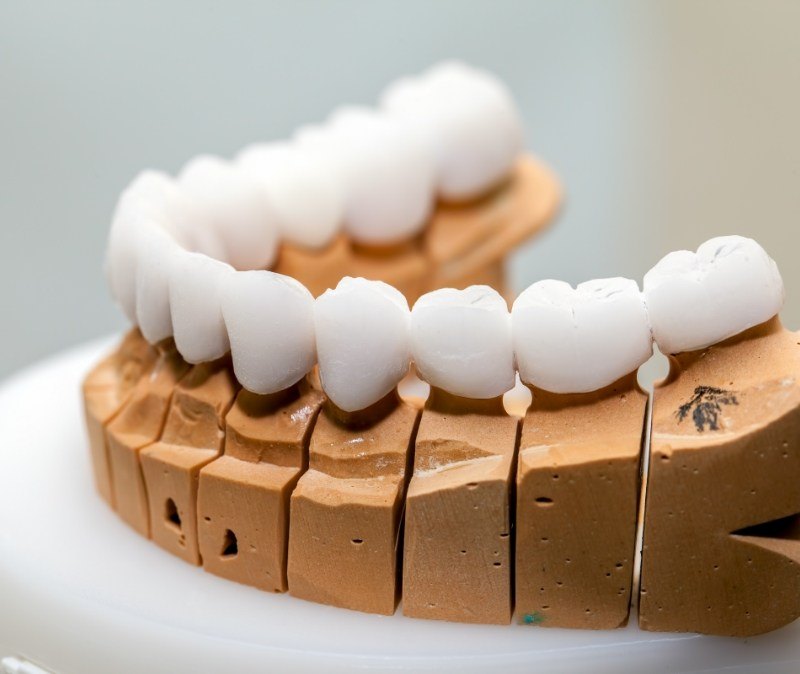 Are You Looking for Beachwood and Cleveland Metal Free Dentistry? Many recent studies have exposed the long-term negative effects of metal tooth restorations. That's why The Center for Advanced Dentistry avoids using any metal crowns, fillings, restorations, or compounds containing metals; unless absolutely necessary, with the exception of titanium dental implants. However, the compound used for dental implants is specially coated to prevent interference with your natural biological systems. For the safer and more natural looking dental restorations you deserve, make a metal free dentistry appointment with the leading restorative Beachwood and Cleveland metal free dentist today.
Learn More About Metal-Free Restorations
Laser Gum Treatment/ Smile Lift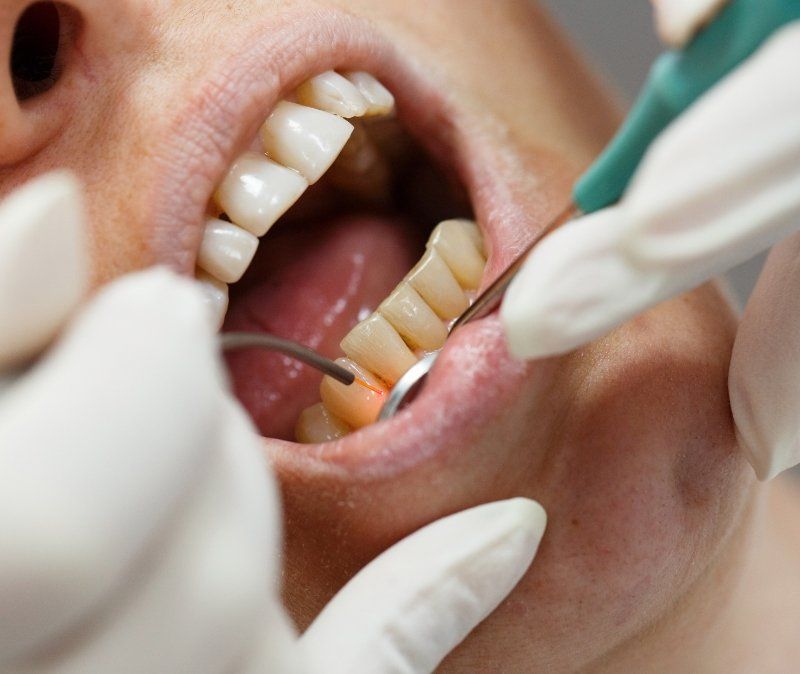 Does your smile look "gummy?" Are your gums uneven making your teeth appear to vary in size or shape? In the past, gum recontouring services required cutting, suturing, and weeks of healing time. Our team offers laser gum recontouring to reshape smiles comfortably and effectively with minimal healing time, and in most cases, no stitches. The soft tissue laser quickly and painlessly removes precise amounts of tissue while accelerating the tissue healing process for an even appearance and beautiful smile.
BOTOX®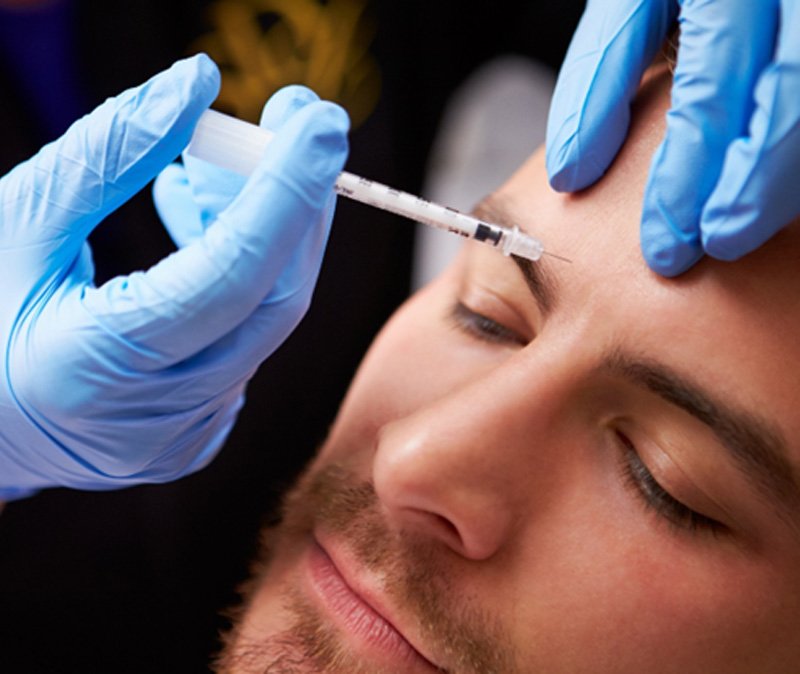 BOTOX offers a quick and easy way to get rid of annoying fine lines and wrinkles on the face. With a few fast and painless injections, we can virtually eliminate forehead creases, crow's feet, marionette lines, or any other flaw that always draws your attention in the mirror or pictures. You'll notice results after a few days and enjoy them for several months before needing to come back for a quick touchup.
Understanding the Cost of Cosmetic Dentistry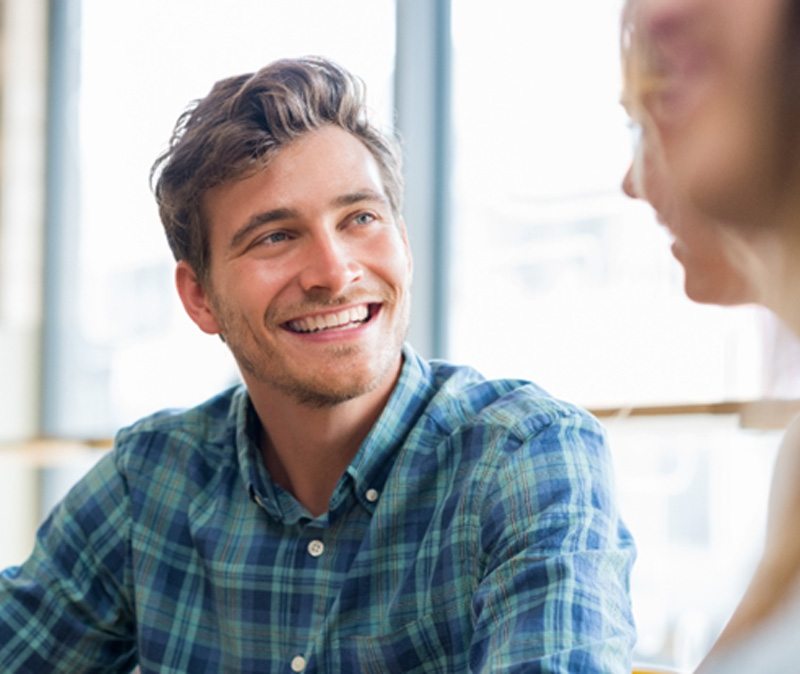 We get it – you might be hesitant to pursue cosmetic dentistry because you're worried about the price. Since it's not typically covered by dental insurance, you need to find alternative ways to cover the cost. At The Center for Advanced Dentistry, we're prepared to help you navigate the financial aspects of your treatment and will determine which payment option works best for your budget! To learn more about the expected costs of specific services, continue reading or give us a call today.
What Cosmetic Dental Service is Right for Me?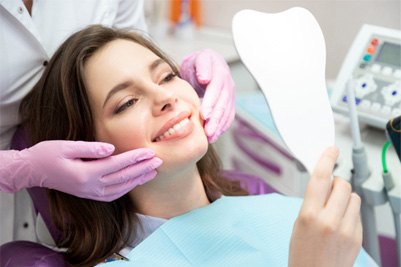 If you're seeking cosmetic dentistry in Beachwood, it's likely because you want to improve one or more things about your smile. Maybe you want to whiten your teeth, straighten them, or even alter their size and shape. No matter what you hope to accomplish, there's a cosmetic treatment that can help you achieve your desired results! Let's take a look at some of our most popular options:
Dental Bonding – Patients that want to make minor changes to their smile may want to consider dental bonding. This cost-effective service is a relatively fast way to address noticeable flaws. However, you'll have to redo the treatment every few years as the results don't last very long.
Teeth Whitening – You can improve the color of your smile with professional teeth whitening. It can make your grin several shades brighter in very little time! Keep in mind that it can't help with tooth shape or position.
Veneers – Although this option is more costly, it's the only one capable of transforming several different aspects of your smile at once. Plus, your results can last several years with proper care and maintenance!
Smile Makeovers – This treatment combines multiple services. It may be pricey, but it's the most comprehensive way to get exactly what you want in the best timeframe possible!
Cosmetic Dentistry Can Be an Investment Worth Making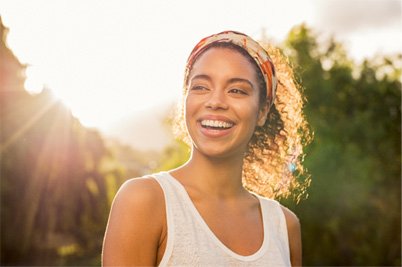 Cosmetic dentistry can feel like a significant financial commitment, but it doesn't have to be that way! You should view it as an investment that will pay itself off in the long run. Having an attractive smile can dramatically boost your confidence and allow you to lead a better overall quality of life. Others may start to see you as being more successful, approachable, and youthful. You'll be surprised by how much improving your grin will positively impact your life!
How to Make Cosmetic Dentistry Affordable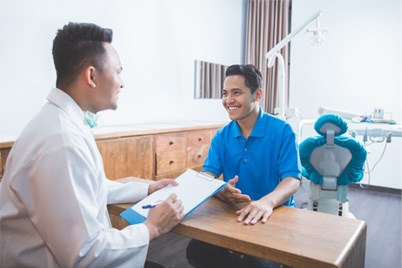 Because cosmetic dentistry is purely for aesthetic reasons, it's not usually eligible for dental insurance coverage. It's a big reason why many people are hesitant to seek cosmetic services. Luckily, our practice offers CareCredit financing to help make your treatment as affordable as possible. With this option, you can split up the overall cost into budget-friendly monthly installments. Plus, these payment plans often come with little-to-no interest attached. You don't have to worry about paying an arm and a leg to achieve your dream look!
Cosmetic Dentistry FAQs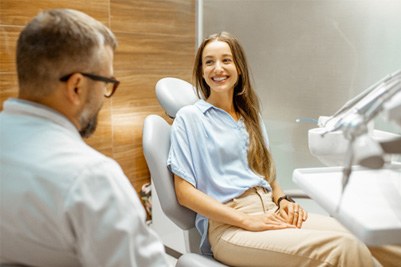 After reading the information above, you probably have a few lingering questions in mind about cosmetic dentistry. Our team at The Center for Advanced Dentistry wants you to be as well-informed as possible before you pursue treatment, which is why we've decided to answer some frequently asked questions below. We don't want you to commit to something you don't understand! If you don't see the answers you're looking for, contact out office directly for personal assistance.
How Do I Know If I Need Cosmetic Dentistry?
The truth is, almost anyone can benefit from cosmetic dentistry. Most people qualify for these services if they're not very confident in their smiles. Generally speaking, the best candidates suffer from stained or discolored teeth, chipped or cracked teeth, and misaligned or misshapen teeth. At the end of the day, the only way to know for sure whether or not you'd benefit from cosmetic dentistry is by attending a consultation with our team.
How Long Does Cosmetic Dentistry Last?
It depends! Cosmetic dental treatments have different methods and effects, meaning they also have varying lifespans. That said, the longevity of your new smile will depend on what type of service you choose. For example, teeth whitening and direct bonding yield fast results but they're not very long-lasting. In many cases, their lifespans only reach three years or so.
On the other hand, more involved procedures like veneers and dental crowns have longer lifespans. You can expect your newly rebuilt grin to last well over a decade with proper care and maintenance!
Does Cosmetic Dentistry Hurt?
Beauty isn't always pain. While it's normal to have concerns that cosmetic dental treatments are painful, you can have peace of mind knowing that your dentist will do everything possible to make your service as comfortable as possible. Plus, most cosmetic dental work is non-invasive anyway, which means you don't have to worry about it being painful. Services like bonding and whitening don't even require a local anesthetic!
Don't worry – even more invasive treatments like veneers don't usually hurt. Your dentist may shave off bits of your enamel, but they'll be sure to numb your mouth before that starts. If you're especially nervous, you can always add dental sedation to the mix to help keep you relaxed.
What Is the Difference Between a Dentist and a Cosmetic Dentist?
Every cosmetic dentist has completed basic dentistry training and earned a DMD degree, but not all general dentists have specialized in cosmetic treatments. Believe it or not, a cosmetic dentist isn't even considered a dental specialty the same way that orthodontics and pediatrics are. Oftentimes, a cosmetic dentist will have an artistic touch that a general dentist might not.