Dental Implants — Beachwood, OH
Long-Term, Biocompatible Tooth Replacement Solutions
Millions of Americans are missing teeth, resulting in a slew of problems with their oral and even their overall health. When teeth are lost, your smile is not the only trait that takes a toll. Digesting food becomes more difficult, your risk for future tooth loss goes up, and your teeth only become increasingly misaligned. Thankfully, advanced tooth replacement solutions like dental implants from our Beachwood, OH dentist can fill the gap and get your oral health back on track! Dr. Schlessel and Dr. Hornstein can restore your smile with safe, biocompatible dental implants made from durable titanium and fitted with lifelike porcelain restorations.
Why Choose The Center for Advanced Dentistry For Dental Implants?
Entire Treatment Completed In-House
Holistic Approach to Dentistry
Trusted by Beachwood for 30+ Years
What Are Dental Implants?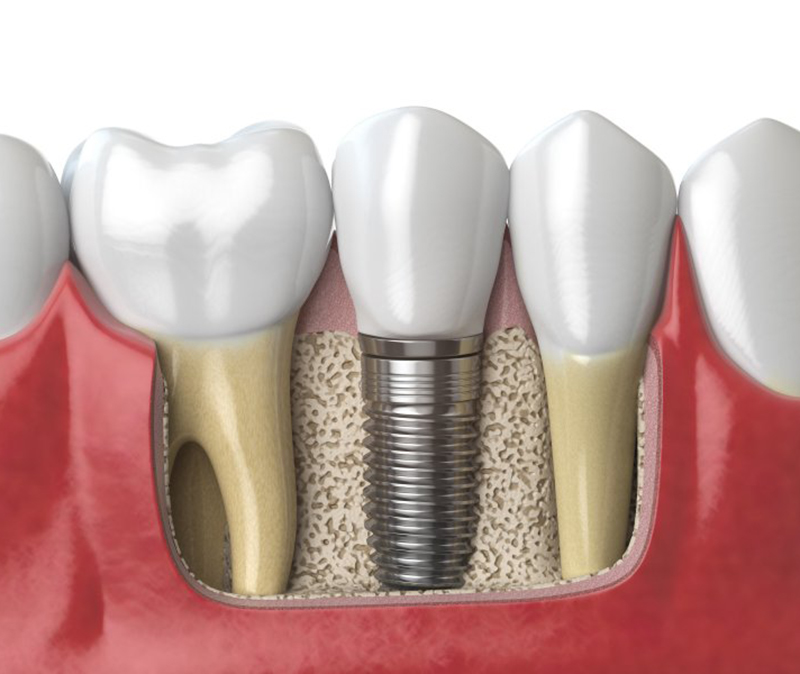 Dental implants are an advanced tooth replacement treatment designed to replace teeth all the way down to the root. While other tooth replacement options only restore the visible portion of missing teeth, dental implants rebuild the structure entirely for unmatched results. The dental implant itself is a small titanium screw. The titanium fixture is designed to integrate with existing bone tissue where the missing tooth once was. On top of the fixture sits a restoration, typically made from porcelain. An abutment connects the two components together. Once healing has been completed, the tooth replacement will look, feel, and function just like natural.
The 4-Step Dental Implant Process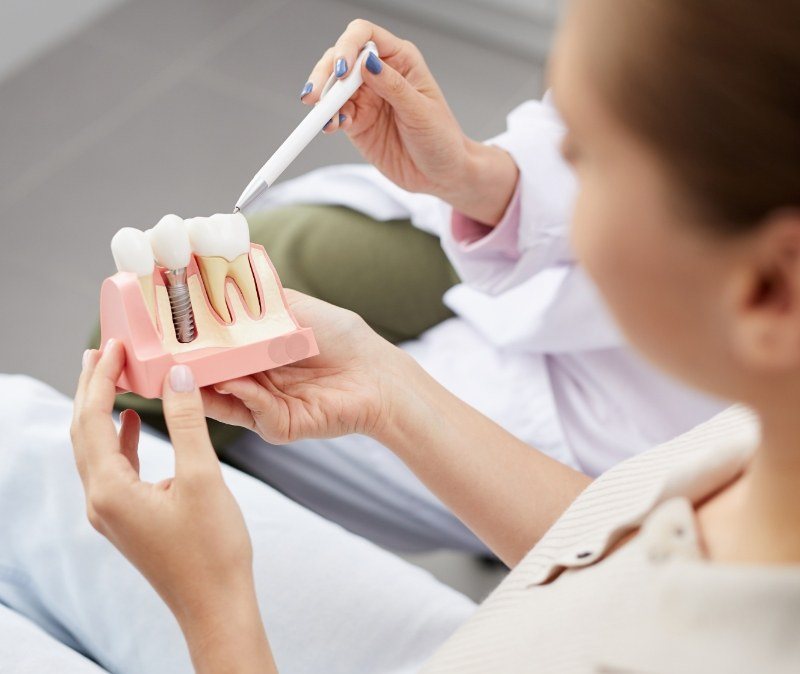 Step 1: Consultation- You and your dentist will discuss whether or not dental implants would be a good fit for you. They'll also perform an exam and take some X-rays to confirm this.
Step 2: Placement- If you choose to get implants, you'll undergo a minor surgery in which the new titanium tooth roots are placed into your jaw.
Step 3: Recovery- Over the next three to six months, your mouth will heal, and the bone around your implants will bond with them, making them more secure.
Step 4: Final Restorations- You'll return to our dental office where our team will attach your new restorations to your implants.
Benefits of Dental Implants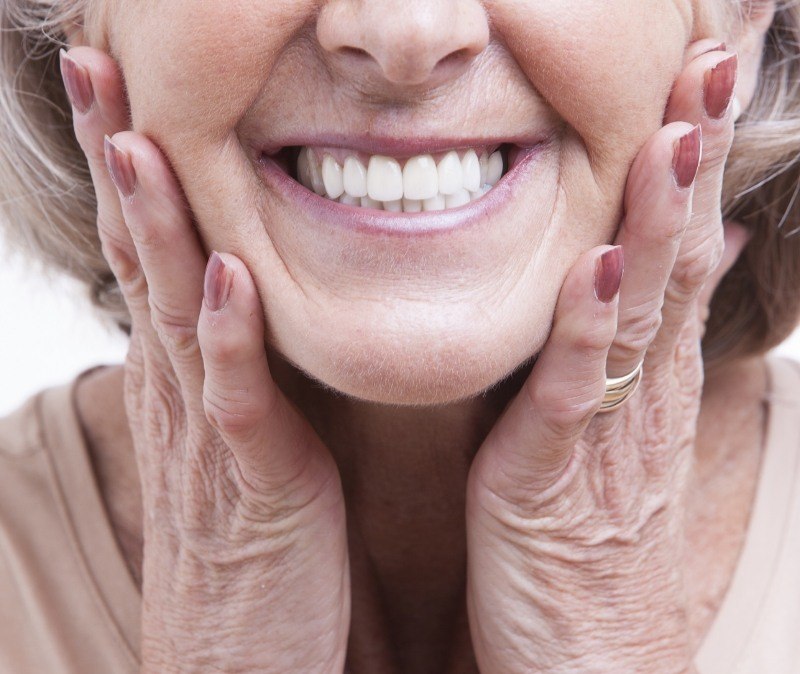 As a result of the integration between dental implant and bone, your new tooth is designed to last longer and feel more natural than any other option. Chewing feels natural because it stimulates bone and soft tissue and your facial appearance, not just your smile, looks far more natural. This is because bone stimulation and improved blood flow via dental implants prevents premature sagging and hollowing out of the cheeks.
And, for those worried about their holistic health, dental implants are designed to naturally integrate with your organic structures without worry of rejection. On average, their success rate reaches between 95 and 98 percent, even after a 10-year period. With proper care, they last between 25 years and a lifetime.
When teeth are lost, dental implants can effectively replace them in the most natural way possible. They are durable, incredibly natural-looking and capable of lasting longer than any other tooth replacement option out there.
Who Dental Implants Can Help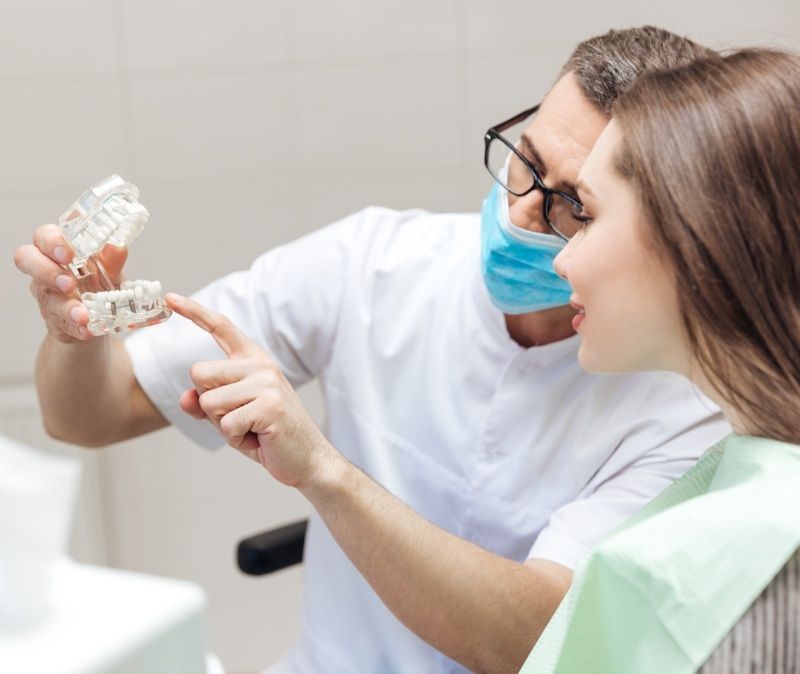 It doesn't matter if you need to replace one tooth or an entire arch, dental implants are incredibly versatile and ideal for both situations. While you should always talk to a dental implant expert to determine your eligibility, advancements in the technology have made it possible for most people to receive dental implants. It's possible to replace single teeth, multiple teeth, or an entire row of teeth in either the lower or upper jaw.
Missing 1 Tooth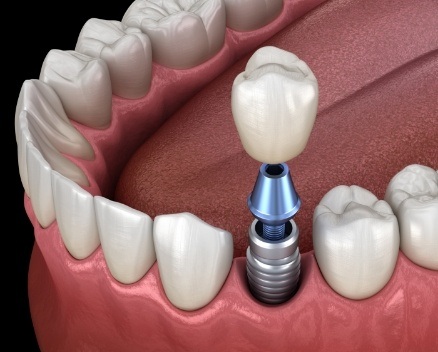 To replace one tooth, regardless of the location, we utilize one titanium implant and one porcelain crown. Titanium is designed to integrate with the body and is commonly used in other forms of implant surgery. Porcelain mimics natural tooth enamel the best and is incredibly durable, making it ideal for implant restorations.
Missing Multiple Teeth
Dental bridges can be easily customized to fit on top of dental implants. Instead of using natural teeth to anchor the bridge, which requires removal of tooth enamel to do, we use two implants on either end of the restoration. If you want to replace teeth without removing tooth structure, this option is definitely the way to go.
Missing All Teeth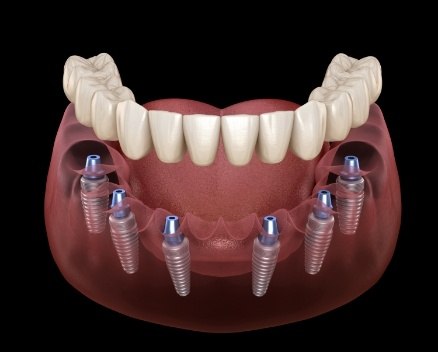 Tired of your denture constantly slipping and sliding when speaking or chewing food? By placing four to six implants throughout your jaw, we can create a more stable foundation for your full or partial denture. Implant dentures can be made to replace the top or bottom arch of teeth. They can also be customized as a fixed or removable denture depending on your preference. Implant dentures can make your denture more stable and remove the need for denture adhesive. Plus, your denture does not need routine relinings like traditional dentures in order to fit properly. Overall, you can expect a denture that last longer and is easier to maintain.
Additionally, we offer All-On-4 dental implants to help patients with severe tooth loss and low jawbone density. All-on-4 treatment allows us to cover your dental implants with a permanent restoration the same day your implants are placed. This means you can maintain a natural-looking smile as your implants integrate with your bone tissue. The treatment uses only four dental implants to restore a full arch of teeth.
Metal-Free Zirconia Dental Implants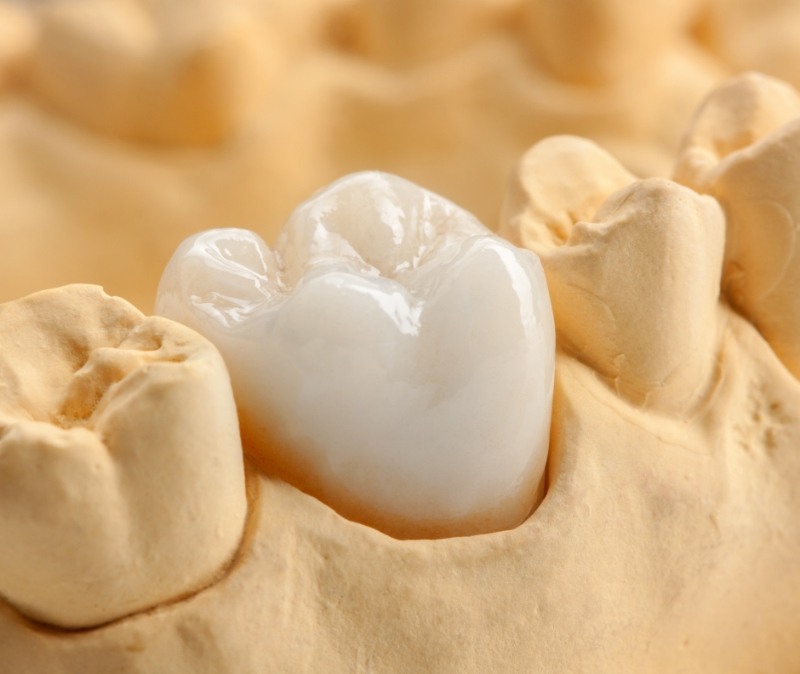 Many patients would prefer to avoid using metal materials for their implant treatment, which is why we are happy to also offer a solution that is entirely metal-free! The CeraRoot dental implant is made entirely from ceramic materials (specifically zirconium dioxide), while still offering a functional, esthetic and long-lasting solution to tooth loss. These implants are also biocompatible but offer an improved appearance thanks to their tooth-colored properties. This is especially ideal if you have thin gums that could allow the metal-components of dental implants to show.
Understanding the Cost of Dental Implants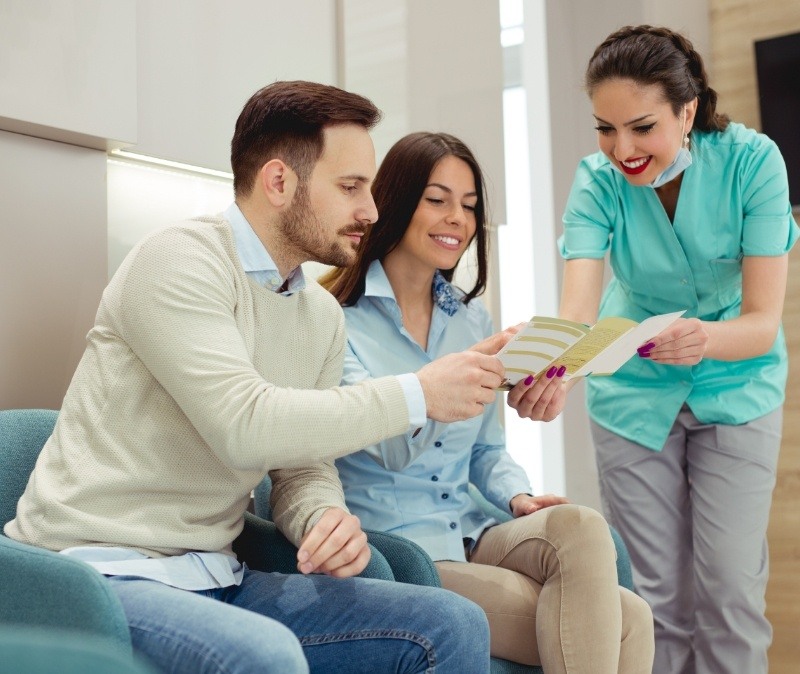 Due to the high level of customization that comes with dental implants, it is difficult for us to give an exact price for every patient. Each individual is going to have their own needs, which means some patients will require more implants and more complex restorations to replace teeth. This, along with the potential need for preparatory treatments like bone grafts, periodontal therapy, tooth extractions or sinus lifts, all influence your total cost.
That's why we recommend an implant consultation in order to best determine how much you'll pay for treatment. It is no secret that treatment can be more expensive than traditional tooth replacements, but the long-term benefits generally outweigh the short-term savings. Think of dental implants as an investment to your oral health and a path to achieving a natural-looking and fully functioning smile.
Dental Implant FAQs
Are you interested in getting dental implants? We want you to have as much information as possible so you can feel comfortable throughout each step of the treatment process. That's why we've gone ahead and answered some popular questions below. If you would like to know anything else, you can always give us a call.
How Much Do Dental Implants Cost?
The cost of dental implants can vary depending on the patient's needs, but in many cases, a single implant can cost as much as a dental bridge. Insurance may cover some parts of your treatment, but this can vary from plan to plan. The best way to determine the cost is to have a detailed implant consultation with one of our experts first.
How Successful Are Dental Implants?
The success rate can vary from person to person as oral care habits can differ. With that said, a person who has good oral health, proper oral care practices, and sufficient bone and gum tissue can dramatically improve their success rate. When placed by a professional, average reported success rates fall between 95 and 98 percent.
How Long Do Dental Implants Last?
With proper at-home care and regular professional cleanings, dental implants can last between 25 years and a lifetime.
Do I Have to Use Metal In My Dental Implants?
Not necessarily. While most dental implant options use metal materials, there are ceramic alternatives that not only avoid the use of metal materials but consist of fewer components. If you're concerned about the presence of metal in your dental implants, we can perform biocompatibility testing to confirm which materials are safe for your unique biochemistry.