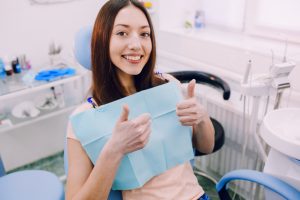 Taking care of your oral health is just as important as eating a nutritional diet and getting regular exercise. Proper oral hygiene can help prevent infections, gum disease and a host of other problems that will leave you worse for wear. If you want to start improving your oral health, consider the following 5 steps you need to take in order to improve your oral health today.
Step One: Get a proper toothbrush
You don't need to buy an expensive electric toothbrush, but you do need to buy one that is better for your oral hygiene than just any old brush off the rack. Electric toothbrushes are recommended because they handle most of the work for you, but manual brushes are fine as long as you commit to brushing for 2-3 minutes and take the time to engage in proper brushing techniques. You should also look for a toothbrush that has soft bristles–hard bristles can actually cause receding gums and enamel loss!–and pick one that is small enough to get into those hard-to-reach areas of your mouth.
Step Two: Start flossing
Flossing is essential for your oral health, yet most people don't remember to floss every day. You should be flossing at least once a day. Make sure to speak with your dentist or hygienist about proper flossing technique so that you are removing debris from every side of your teeth. If you have bridges or other dental appliances, ask your dentist about proper flossing tools (such as floss threaders) that can help you keep those areas clean as well. Make sure you floss your teeth first before brushing.
Step Three: Use an antibacterial mouthwash
Antibacterial mouthwashes will help remove bacteria in your soft tissue and inside nooks and crannies that you can't reach with your toothbrush. Make sure that the mouthwash says "antibacterial" or "antiseptic." You should be using this mouthwash twice a day—once in the morning, and once at night.  Try to stay away from alcohol based mouth rinses.
Step Four: Cut out sugary drinks and foods
Sugar is one of the leading causes of disease, tooth decay and gum disease, so you will want to cut out sugary foods and drinks as much as possible in order to improve oral health.  Sugar is the most common cause of inflammation.  Elimination of this chemical will not only make you feel better systemically, it will improve your overall health.  If you must drink something sugary, use a straw so that it doesn't come in contact with your teeth, and drink it in one sitting (rather than throughout the day) to help minimize damage. After eating sugary foods, rinse your mouth out with water to help remove the sugar particles from your teeth.
Improving your oral health will take some patience and hard work, but the reward of a healthy mouth and healthy life are well worth it.
For more information on how to improve your oral health, contact The Center for Advanced Dentistry's Beachwood dental office today.