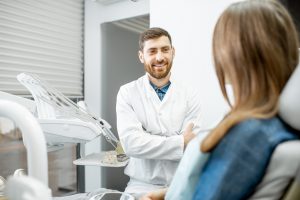 Would you like to transform your teeth via a comprehensive smile makeover? You have much to look forward to. Still, before you commit to anything, it would be wise to ask some questions. Making sure you are well-informed can allow you to move forward with confidence, and it can help you avoid surprises down the road. Here are a few ideas about what you should ask your cosmetic dentist during your consultation:
How Long Will the Smile Makeover Take?
The treatment timeline for a smile makeover is not the same from person to person. How long your transformation will take will depend on which specific procedures you are undergoing. For example, some relatively simple procedures, such as teeth whitening and dental bonding, can be completed in a single appointment. Other services, like veneers, require at least a few visits spaced a couple of weeks apart. If you opt for Invisalign or ClearCorrect, it may be several months or longer before your smile makeover is complete.
Having a rough idea of how long your smile makeover will take can help you to schedule your treatments in a way that will have minimal impact on upcoming events in your life.
How Long Can I Expect My Results to Last?
Understanding how long your results may last can help you to avoid disappointment. Here is a generalized idea of the lifespan of a few popular cosmetic services:
Teeth whitening: Several months to a few years
Cosmetic bonding: 3 – 5 years
Veneers: 15 – 20 years
Invisalign or ClearCorrect: A lifetime
Gum recontouring: A lifetime
Keep in mind that the above numbers depend on how well you care for your smile. Diligent oral hygiene and regular dental visits can do much to keep your smile looking as good as possible for as long as possible.
Will My Results Look Natural?
In virtually all cases, the results of a smile makeover look quite natural. Your cosmetic dentist will carefully deign your restorations so their shape and color will complement your natural teeth and your facial characteristics. They can also be crafted out of top-quality materials that have the same aesthetic qualities as natural tooth enamel.
What Types of Issues Can a Smile Makeover Correct?
A smile makeover focuses primarily on addressing aesthetic imperfections in a patient's smile. It can effectively correct issues like dental discoloration, cracks, chips, spacing issues between the teeth, excessive gum tissue, and more.
However, a smile makeover is not meant to address serious oral health problems. If you are struggling with decay, gum disease, severely worn teeth, or other issues, you should certainly get them taken care of before you move forward with any cosmetic procedures. Doing so may in itself yield some noticeable aesthetic benefits for your smile.
Are you planning to attend a smile makeover consultation? Before your appointment, make a list of questions you want to ask your dentist. Being well-prepared can equip you to enjoy a positive and smooth treatment experience.
Meet the Practice
Dr. Benjamin Hornstein is a highly experienced dentist who has completed advanced aesthetic training at the prestigious Las Vegas Institute. Along with Dr. Shawn Schlessel, he and our team are proud to provide a wide range of cosmetic and restorative dental services. To learn more about us and how we may be able to serve you, contact us at 216-595-1710.