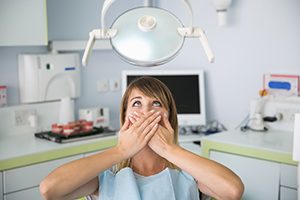 Even the bravest of men and women can feel a little anxious when it's time to sit in the dental chair for an exam. No one likes to feel helpless, especially when we're supposed to sit back passively while someone explores our mouth with a pointy hook. Learning you have to undergo yet more pain in the form of a filling after a painful cavity gets stabbed with that hook just makes the visit even less pleasant.
Despite these fears however, it's important to visit the dentist every 6 months for a cleaning and check up. Skipping these important exams can lead to more serious problems by the time you finally do sit in the dentist chair. If the thought of making an appointment with the dentist strikes fear in your heart, there are a few ways to deal with your dental anxiety.
Distraction as a Strategy
Some dental offices are now putting televisions in the ceiling, giving you something to distract yourself with. If the dental offices don't have these near you, bringing a device such as an iPod with your favorite music loaded on can also provide enough distraction to get you through the exam. This can work well for people who only have mild anxiety, but since it is the least invasive thing you can do, it is definitely worth trying.
Sedation
If you need dental work done but genuinely can't abide the dental chair, sometimes sedation can be applied to help ease the transition. This is more common when heavy dental work needs to be done and it can be done in a variety of ways.
Sedation can be as simple as a light sedative that leaves you still awake but feeling relaxed, appropriate for a dental cleaning, or full anesthesia for heavier dental procedures where you wake up after everything is done. If you can't make yourself get into a dentist chair any other way, this is a great option.
Choosing a good dentist
Many dentists are trained in anxiety reducing techniques, including paying attention to non-verbal cues and offering techniques such as massage therapy and acupuncture to help ease the way to better dental health. Most dentists truly care about you and your health, and are willing to go the extra mile to help you get the cleaning and care you need.
If anxiety about the dental chair has been preventing you from getting the basic care you need, then you need to search for a cutting-edge dental office, like The Center for Advanced Dentistry. Whether it is full sedation, a relaxing massage, or a hot or cooling beverage before you begin, we are known for easing fear and anxiety while providing the best care our patients need. Don't sacrifice your health out of fear, get checked out safely and anxiety-free with one of these methods of care. You'll not only save yourself from unnecessary fear, you may save your teeth as well. Visit https://www.cfad.net/