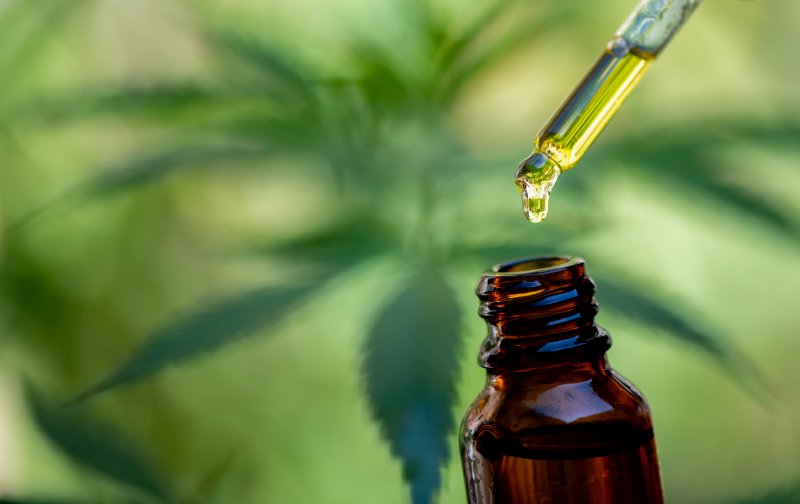 According to recent research, cannabidiol, also known as CBD oil, is showing some promise for diseases tied to oral health. This includes gum disease and tooth decay, two of the most common dental problems affecting patients young and old. While at-home brushing and flossing should never be replaced with the use of substances like cannabidiol alone, it's worth exploring the ways in which it can benefit your oral health moving forward according to a holistic dentist.
What is CBD Oil?
For starters, CBD oil is a byproduct that is derived from the cannabis plant. However, it contains zero psychoactive properties and therefore is not capable of generating any kind of "high" in a person that uses it for medicinal purposes. This is because the active ingredient in CBD oil, which is cannabidiol, is derived from the plant material that makes up the cannabis plan containing less than 0.3% THC. This is a very important distinction that should be made among dental and medical professionals alike who recommend CBD oil to patients.
CBD Oil's Effect on Gum Disease
Gum disease is by far one of the most common chronic diseases in the world and often goes unnoticed until it has already begun to damage oral tissue. Thankfully, cannabidiol has been proven to interact with the CB2 receptors in the body, which are responsible for mediating immune functions. Furthermore, a study published in Karger showed CBD oil to reduce the inflammation and sensitivity to pain caused by gum disease. This is likely due to the product's antibacterial properties that work to minimize damage.
How CBD Can Help with Cavities
Tooth decay is another very common dental issue in both children and older adults. While fluoride is by far the most important mineral you can utilize to combat tooth decay, cannabidiol has also shown some promise against oral bacteria known for causing cavities, specifically Streptococcus mutans. At this time, dentists do need more time to study CBD and its effects on cavity-causing bacteria before recommending it to patients.
Temporomandibular Joint Disorder (TMD) and CBD
TMD is a common disorder involving stress on the joints attaching the jaw to the skull. According to researched published by Dr. Ronald Aung-Din in Drug Development & Delivery, CBD oil was shown to reduce symptoms related to their TMJ in a clinical study focusing on symptoms that cannabidiol could help reduce. This makes sense considering cannabidiol has been shown to help with the inflammation that causes damage in arthritis.
CBD oil is still a relatively new form of holistic medicine that requires more time and attention, but to think that it could play a role in maintaining your oral health and managing other common conditions is truly promising. With that said, the best thing you can do for your oral health is perform consistent brushing and flossing as well as visit a dentist once every six months for a checkup and cleaning!
About the Author
Dr. Benjamin Hornstein is a dedicated holistic dentist that takes the overall health of his patients just as seriously as their oral health. He has studied at many renowned institutions and expanded his knowledge in many areas of dentistry, including periodontal, pediatric, and cosmetic dentistry. He also provides biocompatibility testing, safe amalgam removal, and non-toxic dental fillings. To schedule an appointment with his office, you can contact him through his website.