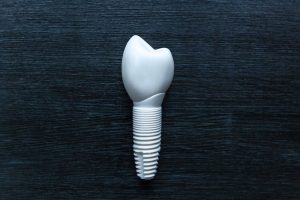 Dental implants are known for being incredibly effective at replacing teeth. Not only do they replace the crown, but they mimic the root portion that comes out when teeth are extracted. However, traditional dental implants also make use of titanium material. While this durable metal is biocompatible with the body, you may not like the idea of metal lingering inside your mouth. If this sounds like you, that's okay. All-ceramic options exist within the dental implant space as well! Here's what you should know as you weigh your options.
What are Ceramic Dental Implants?
It a nutshell, ceramic dental implants are alternatives to traditional dental implants made entirely from durable ceramic materials. Traditionally, a dental implant will consist of an incredibly strong material known as titanium, which was discovered to be safe to use in the human body. As a result, it's commonly used in many types of surgery, not just oral surgery.
One of the most notable differences between ceramic dental implants and traditional metal ones is the fact that they consist of one solid piece. In comparison, titanium implants are made up of two components attached together, which can have its own unique setbacks.
Why Should I Consider Ceramic Dental Implants?
While metal is often used in dentistry, it's not ideal for everyone. For example, some people don't respond to certain metals very well, even ones that are designed to integrate with natural tissue. In other cases, people aren't exactly thrilled about the idea of having metal constantly inside their mouth.
Additionally, metal implants are known for having small spaces in between the restoration and the implant itself. This small space can be difficult to clean during oral care, which can lead to bacterial buildup. In severe cases, it can even lead to peri-implantitis, which is an infection that often causes failure of the implant entirely. Even though this issue is quite rare, it can still occur, even if you practice good oral hygiene.
Finally, metal dental implants are placed in such a way that the metal material is not typically visible through gum tissue. However, if the gum tissue is particularly thin, the dark shade of the titanium post can be visible, making it easier to tell that you have a dental implant.
Are Ceramic Dental Implants Just as Strong?
In the past, dentists would fuse metal directly to porcelain in order to gain the best attributes of both materials. This meant patients could achieve a natural-looking smile while keeping their restorations as durable as possible. Thanks to the development of modern all-ceramics, you can expect your dental implant to be both incredibly strong and natural-looking, despite using no metal whatsoever.
If a metal-free dental implant sounds like it more effectively fits your needs, ask a dentist about ceramic dental implants as a potential option. Replacing teeth without using metal has never been so easy!
About the Author
Dr. Benjamin Hornstein always takes whole-body wellness into account when creating a personalized plan or performing any dental treatment, not just for dental implants. During your consultation, he's happy to discuss the benefits of opting for all-ceramic materials for dental implants and perform biocompatibility testing in-house. To schedule a visit or learn more about dental implants, you can contact him through his website.