Every year, millions of Americans suffer tooth loss from tooth decay, gingivitis, or facial injury. Originally, the restoration methods were dentures and bridges. While dentures and bridges are still great methods to replace missing teeth, there is another option that has become a preferable method for those who want to replace a tooth or a set of teeth: dental implants. Implants are durable, long lasting, and look natural with your other teeth. The Center for Advanced Dentistry  offers a safe, comprehensive procedure to give you pristine, wonderful dental implants.
Why Should I Choose Dental Implants?
Dental implants are a fantastic way to replace your missing teeth. These are not temporary replacements and they do not require adhesives. Implants are permanent replacements that will last for years, with proper care. Our trained, talented doctors will examine your mouth, look at the problem area, and form a plan to craft the perfect dental implant for you. Instead of letting your self-esteem take a blow or suffer through other oral issues due to the missing tooth, our team can prepare a replacement that will make you proud to flash your smile everywhere you go.
Easy Procedure to Fix Your Smile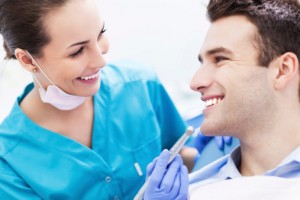 During your first appointment, our caring staff will attentively examine your mouth and walk you through the next steps in gaining a replacement. Afterward, we will sedate you with anesthesia so that we can surgically insert a biocompatible titanium post into your jawbone. You will then go through a healing period as the bone grows over and bonds with the post. After the post heals, you will return to our office. We will double-check everything to make sure the post is secure and everything has healed properly. If all is well and you do not require extra healing time, we will secure and bond the replacement tooth on the post. Then, you can walk out of our building with a complete, full smile across your face.
Complete Your Smile Today
Contact The Center for Advanced Dentistry today to restore your smile. We love to help patients achieve the smile they want, and our doctors are always ready to provide natural tooth replacements for those who need it. Our building is open to Beachwood, OH, Shaker Heights, Pepper Pike, Warrensville Heights, Cleveland, and the neighboring communities.