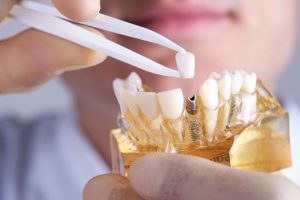 Do you feel stuck with unattractive smile gaps or dentures which slip and click? You have a better option with dental implants from Beechwood dentist, Dr. Benjamin Hornstein. Stable, long-lasting and realistic-looking, dental implants are today's best choice for restoring your teeth to full health and function.
You Have Options
Developed over decades of meticulous dental research and practice, the dental implant has become today's gold standard in tooth replacement. It has captured the imaginations of dentists all over the world and has been successfully placed in millions of teens and adults who have suffered tooth loss due to accident, advanced tooth decay and gum disease.
While fixed bridgework and partial and full conventional dentures still have their places in modern restorative dentistry, they carry certain disadvantages such as:
Bone and gum recession
Shorter lifespan of 7 to 10 years
Slippage during eating and speech problems
Grinding down of supporting teeth in the case of partials and bridgework
Dental implants in Beechwood, however, offer a more realistic-looking and natural-functioning tooth replacement choice for individuals in good overall and oral health. Surgically inserted into the patient's jawbone, the dental implant device actually becomes stronger over time as it bonds with the bone (osseointegration) and supports a metal alloy post and porcelain crown.
The Process of Getting an Implant
A credentialed expert in all kinds of dental reconstruction, Dr. Hornstein places dental implants right in the Center for Advanced Dentistry. He first evaluates the individual's oral health through examination and digital imaging to ensure he or she has sufficient bone density and good gum health to accept an implant.
Then, the doctor numbs the implant site and opens the gums to drill a small access hole into the bone. He actually screws the titanium implant device into the jaw and sutures the gum closed.
After a period of healing at home, the patient comes back to the Center for Advanced Dentistry and receives a metal post and customized ceramic crown. The implant is complete and ready for normal use. With good daily brushing and flossing habits and in-office exams and cleanings semi-annually, the dental implant should be the last tooth replacement the individual will ever need.
It's So Versatile
The dentist also can use multiple dental implants to support multi-tooth fixed bridgework or fixed or removable full dentures. While placing this kind of dental prosthetic takes some months and a few trips to the dentist's office, the results are amazing. Patients are pleased with their smile aesthetics and also report very stable chewing and clear speech. Of course, diligent oral hygiene is a must with multiple implants.
What are You Waiting For?
Explore your tooth replacement options. Contact the Center for Advanced Dentistry in Beechwood to arrange a dental implant consultation.