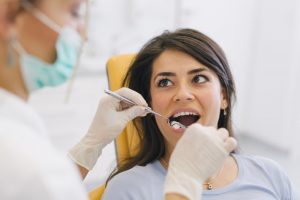 When it's time for your routine dental appointment, you're likely thinking about whether or not you're doing enough to keep your mouth free of gum disease and tooth decay. However, while these are among the most common issues dentists encounter, they are far from the only concerns they are keeping in mind during your routine exam. For example, oral cancer manifests in the mouth, and dentists are more than capable of catching the early signs. To learn why catching oral cancer early is crucial and how a dentist can help, keep reading.
How Many People are Affected By Oral Cancer?
While many people may think that oral cancer is a relatively rare condition, it's actually far more common than you might think. For example, did you know that it's the sixth most common form of cancer in the world? Furthermore, The Oral Cancer Foundation, a group dedicated to aiding prevention against oral cancer, notes that roughly 12,000 people die and about 53,000 people are diagnosed with the condition every year.
One of the most notable aspects of the mortality rate for oral cancer is that most people don't even realize they have it until it's already too late. This is one of the largest reasons why so many people either die or have their lives changed forever following their diagnosis. For dentists, it's just another reason why prevention is so crucial during routine dental appointments.
Complications That Can Appear After Oral Cancer
The sooner you can receive treatment for oral cancer, the better off you'll be in the long-term. When oral cancer is allowed to develop, it can cause major changes in your daily life following your treatment. For example, it can cause:
Pain or tenderness within the mouth, face and neck
Changes in your ability to speak
Changes in your physical appearance
While oral cancer is very treatable and even curable, the likelihood this occurs only goes down the longer you have the condition without treatment. With the help of routine exams, you can lower your risk.
What a Dentist Can Do to Protect Patients
Dentists not only perform detailed exams of your teeth and gums, but the soft tissue inside your mouth. Here, they can catch the early signs of oral cancer development, including red or white patches of tissue or sores that do not heal on their own. They can also check areas around the neck where oral cancer can develop. Some dentists even use dedicated technology for easier examination, such as a Velscope..
While routine appointments are necessary for maintaining long-term oral health, they aren't the only reason you should keep up with them. If you have not had your checkup in the past six months, set up an appointment today!
About the Author
Dr. Benjamin Hornstein is not only dedicated to catching the early signs of oral cancer, but helping patients maintain their whole-body wellness through comprehensive dental treatments. Through the use of Velscope technology, he performs detailed screenings during every regular exam to ensure your overall health is taken care of. To schedule an appointment with him, you can contact him through his website.