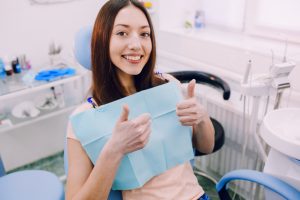 If you've made the choice to replace your missing teeth with dental implants, you've made a smart decision. We provide dental implants in Beachwood to allow you to make an investment in your smile with a permanent solution to treat tooth loss. Using a simple and safe surgical procedure, you'll benefit from permanent prosthetic teeth to regain your smile, oral health and quality of life. While dental implants are highly successful, we understand you may still have some questions about the procedure. As your implant dentist in Beachwood, we're here to help you understand to process to getting dental implants.

Determining If You're a Candidate
Although dental implants are the perfect solution to treat tooth loss for almost all patients, the success of the implant procedure relies on whether or not you're the ideal candidate for implants. To benefit from implants, you'll need to undergo a thorough evaluation to determine if your gums are healthy, as well as if you have adequate bone density. To ensure the success rate of the implants, we will have to evaluate you for certain health or lifestyle factors that may cause negative consequences should you receive dental implants.
If it's decided you're a candidate for implants, we may need to perform certain procedures prior to beginning the implant process. For example, you may need to have some natural teeth extracted if we are unable to save them. Or, you may need bone grafting if you don't have adequate bone dentistry.
Dental Implant Procedure
The first step to receiving implants will involve surgically inserting titanium posts into your jawbone. The titanium posts are bio-compatible so your jawbone will naturally heal and fuse to the implant. As your body heals around the implant, you may have minor pain and discomfort, which can be managed using pain medications and anti-inflammatories. During the healing process, you'll need to keep the incision sites clean and stick to soft foods to decrease the risk for infection and irritation.
After your body has accepted the implant, we will then use abutments, which are attached to the titanium posts. With the abutments in place, we will then attach your prosthetic crowns to complete your tooth replacement.
Once your new teeth are in place, you'll need to care for them properly to ensure they last a lifetime by decreasing the risk for implant failure. While the risk for failure is generally less than 5 percent, you'll need to keep bacteria levels in the mouth to a minimum to decrease the risk for infection. With the right home care and regular checkups with your dentist, you'll have a beautiful new smile to last a lifetime.
Dental Implants in Beachwood
We provide dental implants in Beachwood to give you a complete smile. As a leader for implant dentistry in the area, we safely and effectively treat tooth loss using the most advancement technologies and techniques in dentistry. If you're ready to transform your smile, choose the implant dentist in Beachwood you can trust. Call our office today at (216) 342-9509 to schedule an appointment.