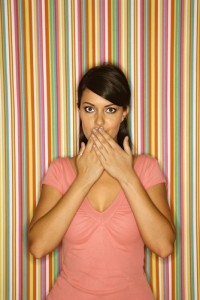 Do you try to masque chronic bad breath with gum or mints?  Those may help, but they don't really treat the problem. Odds are, your recurring bad breath has something to do with your brushing habits, and it may even be a symptom of a serious problem.
Bad Breath – It's Causes and What It Might Mean
One reason why some suffer from bad breath, also known as halitosis, is because of poor brushing habits. When you forget to brush (or floss), food particles can become trapped in your teeth, where they decay and mix together with bacteria to form a sulfur compound.
But your bad breath may not just be caused by old bits of food. In some cases, halitosis may a symptom of gum disease. Which mean, if you suffer from chronic bad breath and mints, gums, and brushing aren't helping, you may want to schedule an appointment with Dr. Hornstein. He'll put your smile through a comprehensive exam to look for any other symptoms that might indicate the presence of the disease.
If we find any, Dr. Hornstein can recommend a treatment process that will help you. Gum disease can often be treated by spending more time at the sink and with more regular dental visit. We may also recommend a professional kit like CloSYSII or a tongue scraper to help you.
Cleaner Breath and a Healthier Smile
To find out more about how Dr. Hornstein can treat bad breath, or to schedule a consultation visit, give us a call today. Our Beachwood dental office serves patients from Cleveland, Solon, Shaker Heights, Pepper Pike, and beyond.