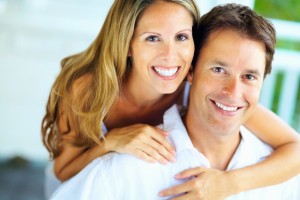 Your oral health is closely linked to your overall well-being, and we're learning more about the tie between the two every single day. Great strides were made in 2015 in understanding the cyclical connection between periodontitis, or gum disease, and a number of other conditions in the body. It seems that in many cases, gum disease left untreated can cause other diseases to worsen, too. Heart disease is just one of these conditions. Keep reading to learn more about the condition (and periodontal therapy in Beachwood!) from Dr. Hornstein today.
Protect your heart health by caring for your gums, first
Although we're still not sure exactly what is the connection between the heart and the gums, it's thought that when the gums are weakened due to infection, harmful bacteria and other toxins are allowed easy entry into the bloodstream. And when that bacteria travels to the heart, issues like cardiovascular disease, stroke and heart attack can follow.
This is troublesome news — especially when you consider the fact that 75 percent of American adults past the age of 35 are already suffering from gum disease. Fortunately, the condition is easily treated with periodontal therapy at our Beachwood office — and it's even easier to prevent with excellent care at home.
Prevent gum disease in four easy steps
Keeping these four tips in mind can help you protect your gums from the damaging effects of periodontitis, which benefits your overall health as a result.
#1: Brush like you know you should
Of course you know you should brush for two minutes, twice a day — but are you really doing it regularly? Start today. Try setting a timer if you have trouble reaching the two minute mark at first.
#2: And the same goes for floss
Flossing is the only method you have for removing the bacteria and food particles your toothbrush leaves behind. So what can you do? Floss daily. Enough said.
#3: Kick the habit
If you're a tobacco user, you should know that use of the substance in any form is a major risk factor for gum disease. Kick the habit today, for the benefit of your oral and overall health.
#4: Visit your Beachwood dentist twice annually
The final ingredient in excellent oral care is staying on top of your six month checkup and cleaning at the Center for Advanced Dentistry. When you do, you're giving Dr. Hornstein and his team of professionals the chance to catch the small signs of larger problems — like tooth decay, gum disease and even oral cancer.
If it's been more than six months since your last checkup, don't wait to schedule your first one in 2016! We're waiting to help you maintain a healthy, beautiful smile that lasts for a lifetime.