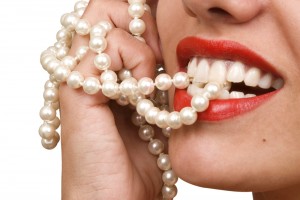 The New Year is here! While everyone is busy making resolutions and heading to the gym, why not start out 2013 right with teeth whitening from the Center for Advanced Dentistry?
Teeth whitening is a great way to enhance the beauty of your teeth. Whiter teeth will help lend confidence to your smile.
We offer the BriteSmile teeth whitening system, which will brighten your teeth an average of nine shades, and offer both in-office and take home whitening solutions. Dr. Hornstein will apply a gentle teeth whitening gel and then use a special blue light to whiten your teeth. Come in on your lunch break and leave with whiter teeth!
We also offer a special "Whitening for Life" program. To participate, first you'll have an in-office teeth whitening appointment where you'll also receive custom teeth whitening trays and three syringes of whitening gel to use at home to help your beautiful white teeth last. If you come and visit us every six months for your regular dental cleaning appointment, you'll receive two syringes of whitening gel free at each appointment.
Many of our patients find that teeth whitening leaves them looking younger and gives them an added boost of confidence. The New Year is a great time for fresh starts, so why not start it off with beautifully white teeth!
Interested in teeth whitening? Schedule an appointment today to learn more and see if it's right for you!
The Center for Advanced Dentistry in Beachwood is committed to providing quality holistic and aesthetic dentistry. We serve patients from Cleveland, Solon, Shaker Heights, Pepper Pike, and the surrounding area. Call us today to schedule your appointment!