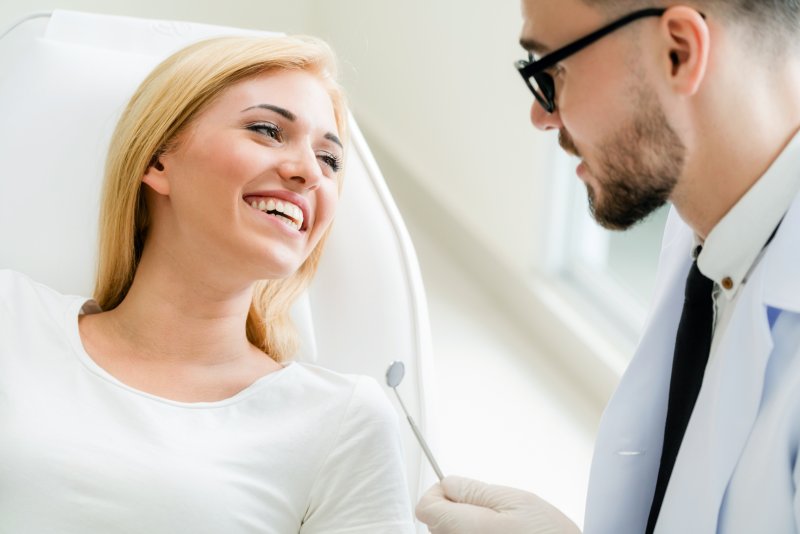 Even healthy teeth can start to look imperfect after enough time. Chips, cracks, stains, gaps and other cosmetic concerns can develop, making the act of smiling a more difficult prospect for some. If you find yourself hiding your smile frequently, whether during pictures with friends or when meeting people for the first time, you may have wondered if cosmetic dentistry is right for you. People often ask about the difference between veneers and bonding, two of the most popular cosmetic treatments in dentistry to date. Keep reading to learn more and find out which solution can best meet your needs!
How Do Veneers Work?
Veneers are ultra-thin sheaths typically made from dental ceramic. These restorations are designed to bond to the teeth visible in your smile, effectively covering any and all imperfections. That means everything from stains to chips to cracks and even gaps can be sufficiently hidden following placement.
Not only are ceramic veneers color-matched to blend in with your neighboring teeth for a more natural esthetic, they are also quite durable. With proper at-home oral hygiene and positive habits, they can last anywhere between 10 and 15 years.
With that said, veneers do require removal of existing enamel to place. This allows them to sit flush against teeth so they do not look too large or unnatural.
Is Cosmetic Bonding Better?
In comparison, cosmetic bonding is a considerably more affordable and less invasive approach to fixing dental imperfections. The treatment uses composite resin, a material made from glass and plastic that can be easily color-matched to your existing enamel. It does not require modifying enamel in the same way that veneers do, meaning you can maintain far more of your original tooth. The material can be easily applied, shaped, and cured directly on your teeth to hide cosmetic chips, cracks, stains that do not respond to whitening, and even tiny gaps in between teeth.
Keep in mind that bonding does not last as long as veneers, which means retreatment will likely be needed after a few years. This is to ensure it continues to look lifelike next to natural teeth. With that said, it's much cheaper upfront, making it accessible to more people.
How to Choose the Right Service for You
While you'll need to have a one-on-one conversation with a cosmetic dentist to know for sure which treatment will best suit your needs, you may find veneers more ideal if you want to completely transform your smile as quickly as possible. You can also expect your results to last longer. However, this is assuming you are okay with the higher cost and permanent modification to enamel that occurs in the process. If you want to save money and only have a few minor imperfections you'd like to treat, cosmetic bonding is likely the better option.
Still feeling unsure about veneers and cosmetic bonding? Schedule an appointment with a dentist today to learn more!
About The Center for Advanced Dentistry
Whether you want cosmetic bonding or veneers to enhance your smile, Dr. Schlessel and Dr. Hornstein look forward to speaking with you one-on-one to help you create a personalized cosmetic treatment plan. Their years of dental expertise and friendly chairside manner is sure to make you feel confident about your future smile makeover. To schedule an appointment, you can contact them through their website.