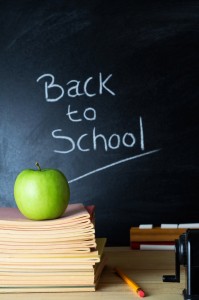 We're only a week into August but a new school year is just around the corner, which raises an important question: have you brought your son or daughter into The Center for Advanced Dentistry for a back-to-school checkup yet? If you haven't, why not schedule an appointment today? We know how busy life can get once school has started, so don't wait—call Dr. Hornstein's Beachwood dental office today!
Why Are Back-to-School Visits So Important?
As we already mentioned, once school gets started life can get pretty busy. But putting off important dental visits won't put common oral health problems like tooth decay or gum disease on hold. If your child has any of these, they'll only get worse as more time passes.
During a regular, back-to-school checkup, though, Dr. Hornstein can look for signs of these common conditions and can treat them now, before they require more extensive treatment.
What's more, during your child's visit, Dr. Hornstein can offer him or her extra protection from cavities with dental sealants. Recognized by the ADA as an effective cavity-prevention tool, dental sealants work by shielding chewing surfaces from decay. You can learn more by visiting our dental sealants page here.
And if you're ready to schedule your child's back-to-school visit, don't hesitate to give us a call. Creating healthy smiles for patients from Beachwood, Cleveland, Solon, Shaker Heights, Pepper Pike, and beyond is our passion. We look forward to hearing from you!