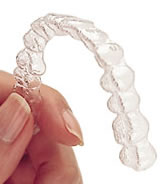 As the new year approaches, are you considering ways to improve your life…and your smile? At the first of every new year, people make resolutions to get in shape, get more organized, and update their looks. If you've struggled with crooked teeth for a while, you know what damage it can do to your self-esteem, but there's a fairly easy and painless way to change all of that with Invisalign clear aligners from Drs. Hornstein and Gray at The Center for Advanced Dentistry in Beachwood.
Our dentists consider themselves smile artists. They can fit you for Invisalign clear braces, which will slowly move your teeth into a straighter position without the hassle, discomfort, and unattractive look of traditional orthodontics.
Why choose Invisalign clear braces for your smile makeover from The Center for Advanced Dentistry?
Comfort: Traditional braces can irritate soft tissues in the mouth. Invisalign aligners are smooth, making for greater comfort.
Ease of hygiene: To clean your teeth and braces, you simply remove your aligner, allowing you to brush and floss normally as well as clean your orthodontic appliance.
Attractive: Because they're clear, people will hardly notice your Invisalign aligners, and if you need to remove them to look your best for a big event, you have the freedom to do so!
Don't let another year pass without getting the beautiful smile you deserve. Contact The Center for Advanced Dentistry in Beachwood today to discuss Invisalign clear orthodontics!