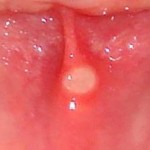 Aphthous ulcers, also known as canker sores or oral ulcers, form on the mucous membranes and on the genitals. These ulcers are typically round or oval in shape and usually occur on the inside of the lips or cheek or under the tongue or on the genitalia. This is in contrast to angular stomatitis, which typically occurs on the corners of the mouth, or a cold sore (herpes infection) that usually appears on the upper or lower edge of the lip.
 Other identifying characteristics of a typical aphthous ulcer include:
appear as a yellow area initially
red line often encircles the ulcer
tend to turn white or gray in the middle
often painful, particularly when exposed to irritating foods, drinks, or movements
occupy a distinct area while other tissues are unaffected
Recurrent aphthous ulcers are usually smaller than 5mm and usually take about one to two weeks to heal completely. Larger ulcers that are greater than 10mm in size, called major aphthous ulcers, can take much longer to heal and may result in scars. Another type of aphthous ulcer, called herpetiform ulcers, present as many tiny ulcers that often appear on the tongue and typically heal within a month.
 According to DermNet's June 15, 2009 article entitled "Aphthous Ulcers," approximately 20% of the population experiences apthous ulcers, which often begin to appear in younger years. About 40% of people who develop these ulcers have a family history of these painful sores. The above web page also shows nice quality, close-up pictures of aphthous ulcers.
 Because aphthous ulcers may have many causes, many of which are still being investigated, it is important to seek the advice of a healthcare professional before attempting self-treatment of these ulcers.