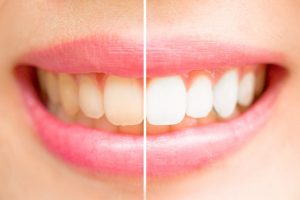 If you've tried teeth-whitening treatments before, there's a good chance that the results you were promised didn't meet the results you were given. Either your teeth weren't as white as they could have been, or you needed to go back to the dentist for a touch-up sooner than you expected. Luckily, your dentist has found a teeth-whitening system that solves the problems others fail to address.
With KoR's wide variety of whitening treatments, you'll experience the results actually promised to you before treatment. Keep reading to learn what makes this system so unique to its competition.
What is KoR Whitening?
The KoR Whitening System is a unique product designed to whiten teeth more effectively than ever before. This is thanks to its multiple tiers of whitening strength using carbamide peroxide, hydrogen peroxide, and KoR's own Hydremide Peroxide gel.
Whether you're the best man at your wedding, your job relies heavily on your appearance, or you just want to have a more confident smile, the KoR Whitening System is designed to produce successful and long-lasting results.
What Makes KoR Whitening Different?
KoR's Whitening System differs from its competitors in three major ways. To start, KoR's whitening trays do not require the use of lasers or lights in order to activate the gel's whitening properties. Because the system is chemically activated, it opens the door for more people to use the system at home on their own time, without the need for dental lights or lasers.
The second major difference is how KoR treats its products during the manufacturing process. From the moment the whitening gel is produced, KoR makes sure to keep it refrigerated up until the dentist uses and provides to their patients. This is because the moment that chemicals in whitening gel become exposed to heat, they start breaking down, losing their effectiveness.
The third difference is the quality of the trays themselves. According to the researchers from the Clinical Research Associates group, whitening gel in conventional whitening trays are only strongly active in the first 25-35 minutes of use. This is due to saliva contaminating the whitening properties of the chemicals.
In comparison, KoR's trays are sealed to prevent saliva from coming into contact, providing 6-10 hours of whitening activity. KoR wants to make sure you're getting your money's worth.
Why Should I Consider In-Office Whitening vs Only At-Home Treatment?
While KoR does offer a whitening treatment exclusively done at home, you'll want to consider the benefits that KoR's combination of in-office and at-home treatments offer. This includes:
The use of KoR's Dual-Activated Tri-Barrel Hydremide Peroxide gel, only available in-office
The ability to remove stubborn white spots resulting from fluorosis
The ability to remove dark geriatric staining
The ability to remove the tetracycline staining previously thought to be untreatable
So why wait any longer when you can get started whitening your teeth today? Schedule an appointment with your dentist and embrace a brand-new smile with teeth-whitening treatments from KoR!
About the Author
Dr. Benjamin Hornstein has an artistic talent for giving people whiter smiles. He's completed over 60,000 white, bonded restorations since entering the practice and provided people smiles they love, even in the most complex clinical cases. His expertise in aesthetic restorations and advanced whitening tools are reason alone to schedule a visit. To learn more, you can contact him at (216) 595-1710 or visit his website.