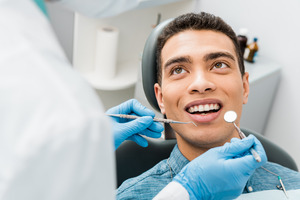 What is your plan for dealing with oral health problems? Some people try to save time and money by skipping their regular dental appointments and only seeing the dentist when a serious dental issue occurs. However, this is not the best plan for keeping your smile safe. It's always better to visit your dentist every six months so that any problems can be caught early. Below are 4 important advantages of this preventive approach to dental care.
1. Oral Health Issues are Easier to Deal With In Their Early Stages
In general, when an oral health issue is caught early on, it is easier to treat. For example, a small cavity can often be repaired with a simple dental filling. But if the cavity is ignored, it can eventually lead to a severe tooth infection that might require a root canal or even an extraction. Being proactive about having dental problems dealt with makes it more likely that you'll be able to protect your smile with more conservative treatment options.
2. You Can Save Money by Having Oral Health Issues Detected Early
When you're on a budget, it can be very tempting to skip your dental visits. However, if an oral health issue develops without you knowing it, you may eventually need expensive treatments that could have been avoided with early detection. In the long term, it's much better for your budget to visit your dentist regularly so that you can avoid potentially costly situations.
3. Your Dentist Can Identify Areas Where You Can Improve Your Oral Hygiene
Excellent oral hygiene can reverse the early stages of gum disease and remove the plaque that often leads to tooth decay. However, you could easily be overlooking certain spots in your mouth when brushing, and you may not realize it until the damage is already done. By identifying small oral health issues, your dentist can also help you find weaknesses in your oral hygiene routine so that you can make appropriate improvements.
4. You Can Have Certain Conditions Caught Before They Become Life-Threatening
You may not realize it, but every dental checkup includes an oral cancer screening. Oral cancer can be very deadly; it's estimated that it causes roughly one death every hour. Fortunately, when oral cancer is diagnosed and treated early, the odds of survival improve significantly. If your dentist sees any symptoms that may point to oral cancer, they can advise you on what to do next to get the care you need.
In short, skipping your preventive dental appointments isn't worth the risk. Having dental issues caught while they're still small is ultimately the best choice for protecting your smile and managing your oral health costs.
About the Author
Dr. Shawn Schlessel studied dentistry at The University of Tennessee, and after graduation, he worked at one of Nashville's most recognized cosmetic and general dental practices. Today he puts his education and experience to good use helping Beachwood patients protect their smiles from tooth decay, gum disease, and other oral health issues. To schedule a consultation with Dr. Schlessel at The Center for Advanced Dentistry, visit his website or call (216) 595-1710.