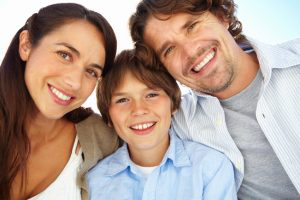 You take great pride in ensuring your family develops healthy, beautiful smiles. In addition to home oral hygiene and a balanced diet, your loved ones rely on exceptional dental care. However, when choosing a family dentist in Beachwood, it can be difficult to find one who can provide services for all family members from one location. Every member in your family has unique oral health needs. You need one dental office to accommodate those needs. At The Center for Advanced Dentistry, Dr. Hornstein is the dentist for you. Our dental office provides safe, holistic dentistry for the entire family.

Benefit from Safe Dentistry
As a parent, nothing is more important than the health and safety of your family. We understand exactly what it means to accomplish your goals. We provide an alternative to traditional dentistry with a safer approach. We are a holistic dental practice, which means we understand how your oral health relates to your overall health. We use biocompatible materials, including metal free restorations, to eliminate infections and any adverse reactions.
We strive to provide the safest services without compromising the quality of care your family receives. Our decision to avoid metal restorations will not change the quality of care your family receives. While metal restorations have been used for more than 100 years, they contain mercury. As a result, when metal is used to treat tooth decay, your loved one is exposed to small levels of mercury each day. We believe your family deserves a safer alternative. Our metal-free restorations are not only safe, but effective and look natural.
As a trusted dentist in Beachwood, Dr. Hornstein provides services for the entire family, even young children. In addition to preventive care, he provides restorative and cosmetic services to ensure your family's smiles stay healthy and beautiful. Due to his extensive training and qualifications, he provides various areas of specialty, such as orthodontics, dental implants, periodontal therapy, and sleep apnea treatment.
By offering an array of services, he can accommodate all oral health needs through all stages of life. As a result, your family will benefit from one amazing dentist over the years to promote a lifelong healthy smile.
Choose Comfortable Care
At The Center for Advanced Dentistry, we believe in raising the bar for dental care. We want to be your dental home, where our patients are happy and enjoy their time in our office. We take the time to get to know our patients and work to ensure you are comfortable. With individualized care for the entire family, we create generations of healthy, beautiful smiles.
We use the most current dental methods and elite dental technology, like CEREC technology, to enhance the level of care your family receives. With patients the center of our focus, we will make your family feel right at home when needing comprehensive dental care.
At The Center for Advanced Dentistry, we understand the importance of family. We will treat your family as our own while we provide safe, holistic dentistry. Contact our office today to schedule a consultation.