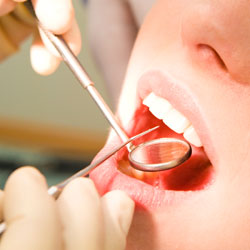 Your mouth is part of a whole body system. As part of this whole, the condition of your teeth and gums impact the health of your body. In addition, the dental treatments you undergo can also influence your overall health. One of the most commonly performed restorative dental procedures is a filling. Beachwood holistic dentist Dr. Hornstein completely relies on metal-free restorations in order to provide his patients with a healthier alternative that also happens to look better, too.
The History of Metal Fillings
Dentists began using metals to fill cavities during the 19th century. Tin, silver or gold was softened and pressed into a tooth to fill the cavity and restore the tooth's form. Later in the century, mercury was added to a mix of these metals in order to bind the alloy particles together into a strong and more long lasting filling.
Over the years, the use of mercury in amalgam fillings has become questionable. According to the U.S. Food and Drug Administration, mercury from dental amalgam is bioaccumulative, which means there is an increasing concentration of a chemical or substance in bodily organs or tissue. The FDA website states: "Studies of healthy subjects with amalgam fillings have shown that mercury from exposure to mercury vapor bioaccumulates in certain tissues of the body including kidneys and brain."
Holistic Dentistry in Beachwood
When you schedule an appointment for any kind of restorative service at The Center for Advanced Dentistry, rest assured you will be receiving completely metal-free dentistry in Beachwood. Holistic dentist Dr. Hornstein and his staff of dental hygienists and dental assistants understand and appreciate the mouth-body connection. Therefore, we strive to help you any healthy risk that might result from using metal restorations.
One of the more common restorative dental procedures performed in our office is a filling to repair tooth decay. Dr. Hornstein only uses tooth-colored fillings that are made of composite resin materials. Composite resin can be blended to exactly match the color of a tooth. And unlike a metal filling that merely rests within the prepared area of your tooth, a composite filling actually bonds to the remaining tooth, thereby strengthening the remaining structure.
Similarly, CEREC same day crowns are all-ceramic and are completely metal free, so you avoid health risks as well as a dark line along your gum.
Call Your Holistic Dentist Today
If you are interested in learning more about holistic dentistry in Beachwood, then call The Center for Advanced Dentistry. We'll be happy to answer questions or schedule a consultation.