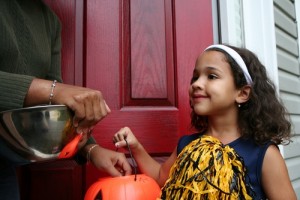 Halloween and all the candy that comes with it is right around the corner.  That's why Dr. Hornstein and the entire team at The Center for Advanced Dentistry would like to take a break from our Smile Makeover series (part 1 and part 2) to wish all our patients a happy, safe, and (most importantly) fun Halloween.
But we'd also like to encourage you to use this year's holiday to teach your little one about the basics of brushing and flossing.
You've been taught all your life that candy causes cavities—and it's true—but a little splurging from time to time never hurt anyone, as long as any splurging that's done is followed up with a little extra time at the sink. So why not use this Halloween to help your son or daughter learn exactly what a smile needs to be healthy. Teaching a child how to brush and floss at a young age can help them develop habits that will stay with them as they grow and become adults.
Have any questions about how you can teach your little one? Give our Beachwood office a call today. Dr. Hornstein and the rest of our team would be happy to answer any questions you might have.