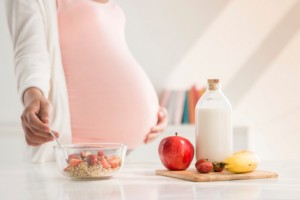 It's no secret that your body changes when you're pregnant. Hormones rising and falling, morning sickness, aches and pains, and more can make you feel like your body is out of control. Many patients aren't aware of how hormonal variation during pregnancy can effect oral health. At the Center for Advanced Dentistry (CFAD), our skilled team will explain the ins and outs of the changes in your oral health while pregnant. If you are pregnant or trying to get pregnant, call to schedule an appointment at our Beachwood, OH office to review oral health and discuss recommended changes to your hygiene routine.
Oral Health Changes While Pregnant
The change in hormone levels puts women at high risk for gum disease, specifically a form of gingivitis referred to as "pregnancy gingivitis." Thorough at home hygiene and regular six month dental cleaning may not be enough to prevent this form of gingivitis. If you notice inflamed, bleeding or swollen gums, gum sensitivity when eating or drinking, or excessive bleeding when flossing or brushing your teeth, call CFAD immediately. Depending on the severity, we may recommend more frequent cleanings through the course of your pregnancy. Gum disease during pregnancy increases the risk of pre-term birth and underweight babies as well as potentially compromising the baby's and your immune system if infection enters the blood stream.
Another oral health change noticed while pregnant is the "pregnancy tumor." The name is quite misleading. A pregnancy tumor is not cancerous. The changes in your body make the mouth's soft tissue more sensitive to irritation from plaque buildup or foreign debris. These red lumps usually appear on the gums between teeth. If they are extremely painful or impede eating, we may recommend removal, but the tumors typically clear up on their own after you give birth.
Dental Care for Baby from the Dentist Shaker Heights Trusts Most
Did you know your baby's teeth begin to develop between the 3rd and 6th month of your pregnancy? A healthy diet is essential to a healthy pregnancy, but did you know that eating well can help your baby develop stronger, healthier primary teeth? Your baby needs a lot of vitamins and minerals throughout the pregnancy, but their developing teeth especially need large amounts of Vitamins A, C and D, calcium, protein and phosphorous. Taking a prenatal vitamin as prescribed or recommended by your physician can help you absorb a large percentage of these necessary nutrients, but eating high fiber and protein, and calcium rich foods will provide your baby with more of the necessary nutrients for growth, especially for developing healthy teeth.
Most necessary dental health care is perfectly safe for pregnant and lactating mothers. However, elective procedures should be postponed until after your pregnancy. In the case of dental emergency, more complex restorative procedures may be necessary, but should always be performed in conjunction with your physician.
Contact Your Family Dentist, 44122
At the Center for Advanced Dentistry, we are here to care for you at every stage of your life. If you're pregnant or trying to become pregnant, call to schedule an appointment to discuss tips for optimal oral hygiene while pregnant. Our Beachwood, OH practice welcomes patients from the surrounding area Shaker Heights, Pepper Pike, Warrensville Heights, Cleveland, and the neighboring communities