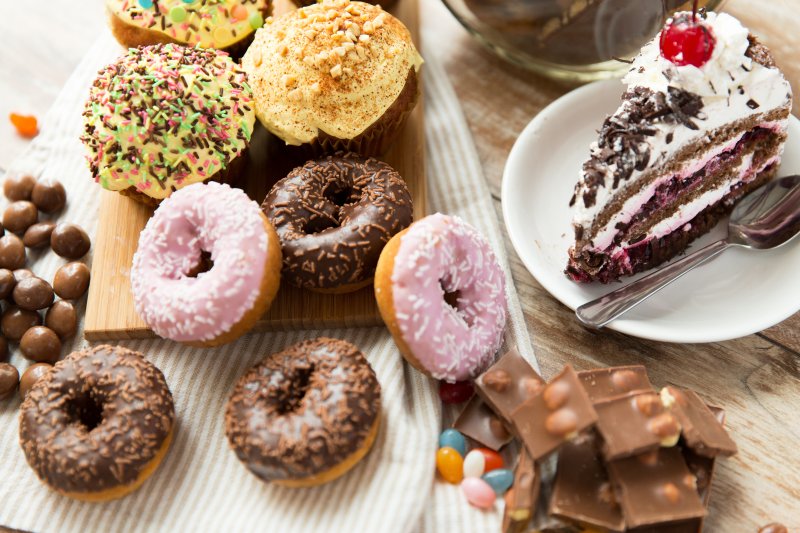 Decades of dental research has proven that the more sugar you consume, the higher your risk will be for developing dental cavities. If you find it difficult to stay away from sweet foods, whether it be cookies, cake, brownies, hard candy, or just about anything you'd find on a dessert tray, it's essential that you maintain certain oral care habits every day. While it's best to avoid sweets altogether, there are steps you can take to reduce your risk of common dental issues and still satisfy your cravings. To prevent cavities and gum disease, keep the following tips in mind.
Brush Often and Consistently
Brushing twice a day for two minutes may sound like an obvious habit to maintain, but there are ways to ensure you're brushing as efficiently as possible, especially if you're consuming sugar more than the average person.
For example, if you find yourself so busy that you end up skipping your brushing routine at home, keep a portable toothbrush on you physically or in your car while you go to work. That way, you can easily visit the bathroom to brush after having a sweet treat. If you don't want to carry around a reusable toothbrush and small tube of toothpaste, consider purchasing disposable brushes with toothpaste built-in.
Upgrade Your Oral Care Products
Manual toothbrushes are perfectly capable of removing plaque from teeth day to day, but it may actually be worth it to purchase an upgrade. Many people who want to not only make their oral hygiene easier, but more enjoyable, opt for an electric option. While electric toothbrushes with rotating or moving heads are reasonable and affordable, sonic toothbrushes offer an extremely thorough and comprehensive cleaning as well.
The good news is electric toothbrushes have become more accessible than ever, so you don't have to drop a large sum of money just to give your smile more attention. Just make sure to replace the head of your toothbrush every three to four months (or once the bristles start to look quite frayed, which may come sooner if you're brushing more frequently to accommodate your high-sugar diet).
Additional Ways to Lower Your Risk of Cavities
While changing your brushing consistency and upgrading your toothbrush can make a big difference, there are other options available to you as well. They include:
Using an oral rinse every time you brush your teeth to clean areas often missed during brushing
Chewing a sugar-free gum after eating sweets to increase saliva production (which is crucial to removing sugar coating the teeth)
Eating sweet foods with less sugar (especially refined sugar), such as fruits, yogurt, dark chocolate, snack bars and more.
You don't have to give up all sweets just to have a healthy smile. You just need to adjust other habits accordingly, particularly when it comes to your oral hygiene. Speak with a dentist today about your options and make sure your smile is in good condition!
About The Center for Advanced Dentistry
Dr. Hornstein and Dr. Schlessel are highly knowledgeable on methods to reduce the risk of dental cavities, gum disease, and other dental problems through holistic methods. By completing routine checkups at their office, you can gain true peace of mind about your smile and how your current habits affect it. To schedule an appointment, you can contact them through their website.