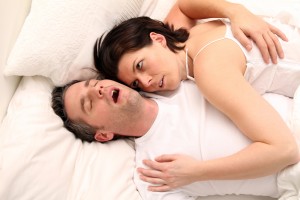 If you snore at night or suffer from symptoms like irritability, difficulty concentrating, morning headaches, or daytime drowsiness, you may have sleep apnea.
An under-diagnosed condition, sleep apnea can disrupt your (and your partner's) sleep and have a detrimental effect on your overall health, putting you at risk for a wide spectrum of serious conditions ranging from heart attack to stroke, high blood pressure, heartburn, depression, and even memory loss.
What Is Sleep Apnea
Sleep apnea occurs when your air passages become blocked while you sleep. This can happen because of the position of your tongue or jaw, the size of your throat, or even the size of your tonsils.
Because air can't get to your lungs, you stop breathing long enough for your brain to wake you up. But because patients often wake up only enough to take a breath, many don't even know they're waking up at all. Even so, you still feel the effects of a poor night's sleep during the day.
But there's hope—sleep apnea can be treated.
Better Breathing Means a Better Night's Sleep
One of the most popular therapies for patients with sleep apnea is oral appliance therapy. And if you've already been diagnosed with sleep apnea, getting an oral appliance is easy. Dr. Hornstein will just need to ask you about your medical history and take an impression of your teeth.
When your oral appliance is ready, it will be shipped back to Dr. Hornstein's office for you to try on. If everything fits as it should, just wear your appliance while you sleep, and finally, a good night's sleep will be yours again.
Schedule Your Consultation Visit Today
To find out more about sleep apnea, or to set up a consultation visit with Dr. Hornstein, call us today. Our Beachwood office serves patients in Cleveland, Solon, Shaker Heights, Pepper Pike, and surrounding areas.